Hillary Clinton and Donald Trump just offered up a little preview of debate season, and it's going to be a shitshow.
The two nominees sat down on Wednesday night with host Matt Lauer for NBC's Commander-in-Chief Forum. Each candidate was given a half an hour to answer questions from Lauer and an audience of veterans and their families. Trump won the coin toss and opted to have Clinton go first.
The former secretary or state faced a number of questions about her record, including her vote in favor of the war in Iraq and her generally hawkish posture when it comes to foreign policy. Donald Trump was questioned about his "secret plan" to defeat ISIS (which remained secret) and said that Vladimir Putin is a better leader than President Obama.
Here's what else we learned:
Donald Trump is still pretty into Vladimir Putin.
Lauer questioned Trump about his previous praise of Putin; Trump responded with more praise. "If he says great things about me, I'm going to say great things about him," Trump said. "I think when he calls me brilliant, I'll take the compliment, OK?"
G/O Media may get a commission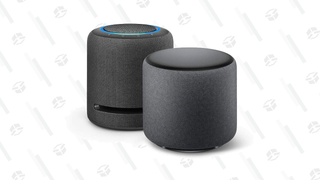 25% off - Prime Exclusive
Echo Studio + Echo Sub Bundle
Donald Trump says he is studying up on foreign policy when he has the time.
Trump cited his business transactions with China as a reason that he would make a strong commander-in-chief, but conceded that he had some more to learn. And that he was preparing for the job, kind of. "I'm campaigning, I'm running a business, I've got a lot of hats right now," he told Lauer.
Hillary Clinton says she will not deploy ground troops as part of her plan to defeat ISIS.
"We are not putting ground troops into Iraq ever again, and we are not putting ground troops into Syria," Clinton said.
Hillary Clinton "regrets" her vote in support of the Iraq War.
"The decision to go to war in Iraq was a mistake, and I have said that my voting to give President Bush that authority was, from my perspective, my mistake," she said.
Donald Trump said his tweet suggesting that military sexual assault is an inevitable outcome of a gender-integrated military was "correct."
In 2013, Donald Trump tweeted this:
Sexual assault is vastly under-reported in the military, with a Pentagon report estimating that around 26,000 assaults occurred in 2012. The military received more than 6,000 reports of sexual assault in 2015, but just 413 of those reports resulted in a conviction.
On Wednesday night, Lauer asked Trump about his tweet suggesting rape is inevitable in a military in which men and women serve together. "It is a correct tweet," he said.