Back in 2005, when Donald Trump was just a reality TV personality celebrating his third marriage, Kellyanne Conway—the Republican strategist and pollster who is now Trump's campaign manager—co-authored a book on how women were "the most powerful force reshaping the future of America."
The end of every chapter of that book, What Women Really Want: How American Women Are Quietly Erasing Political, Racial, Class, and Religious Lines to Change the Way We Live, includes a series of predictions about what women's voting behavior and policy preferences will look like ten years into the future.
Which, as you may know, is basically right now, the year of our lord 2016.
So I went back to the book to see if any of the trends laid out by Trump's campaign manager in 2005 bode particularly well for him in 2016.
They don't.
If current polls showing Trump getting slaughtered by women voters weren't enough to convince you that he has a problem with half the population, the ghost of 2005-era Kellyanne Conway could have told us that Donald Trump is, uh, not what women really want.
G/O Media may get a commission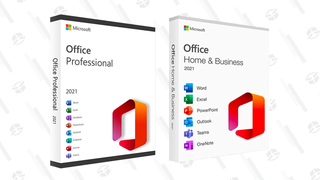 89% off
Microsoft Office Professional 2021 Lifetime License
Here we go:
Alienate single women at your peril.
Single adult women—including women who never married and women who are widowed, divorced, or separated—currently outnumber married adult women in the United States. And most of them are not planning to vote for Donald Trump!
A national poll conducted by American Women and Elle magazine in January found that 86% of single women said they would be either "not that likely" or "not at all likely" to support "a candidate for president who has called women 'fat pigs,' 'dogs,' 'slobs,' 'disgusting animals,' and 'bimbos.'" (Donald Trump is this candidate.)
A July poll from the non-partisan Women's Voices Women Vote Action Fund found that 64% of single women were supporting for Clinton compared to just 23% for Trump.
(Kudos to Conway for predicting a woman on the presidential ticket, though.)
Younger voters don't like political "slugfests."
Over the course of his candidacy, Donald Trump has:

Suggested someone might assassinate Hillary Clinton.
Called Carly Fiorina ugly.
Suggested Ted Cruz's father conspired to assassinate John F. Kennedy.
Retweeted a tweet suggesting that Ted Cruz's wife is unattractive.
Criticized the family of a Muslim soldier killed in the Iraq War and suggested that the fallen soldier's mother had been prohibited from speaking by her husband.
Called Mexican immigrants rapists and murderers.
Said Arizona senator and Vietnam veteran John McCain was "not a war hero" because "he got captured, okay?"
Women want progressive workplace policies. 
In her speech at the Republican National Convention, Ivanka Trump dreamed up a candidate named "Donald Trump" who would "change the labor laws that were put into place at a time when women were not a significant portion of the workforce" and "focus on making quality childcare affordable and accessible for all."
The actual Donald Trump has done… not that. A year after he mocked a female journalist for asking a question about affordable childcare ("It's a big subject, darling"), Trump released a plan to allow families to deduct childcare costs from their taxes, a move that will do nothing to help low-income families who pay nothing in taxes but still can't afford childcare. These families are hardest hit by childcare costs that often exceed in-state college tuition.
Donald Trump has not released any kind of policy on paid family leave, but has said in the past that, "We have to keep our country very competitive, so you have to be careful of it."
He has also suggested women who are experiencing sexual harassment at work should change jobs.
Accommodating breastfeeding mothers is good for business.
Trump called a woman "disgusting" after she requested a break from a deposition so that she could pump breastmilk.
Affordable higher education is a major issue for women voters.
Trump has not rolled out a formal plan on college affordability, but did say during a Fox News town hall in April that, "We are going to do something for the students, something with extensions, and lower interest rates, and a lot of good things."
Trump's campaign co-chairman, Sam Clovis, also told Inside Higher Ed in May that an as-yet-unannounced policy proposal would include re-privatizing student loans and using that system to discourage students from pursuing liberal arts degrees that may not lead to jobs.
And in a twist that may surprise you, Trump, Hillary Clinton, and Elizabeth Warren agree that colleges should have "skin in the game" when it comes to college loans and may be partially on the hook if and when a student defaults.
Donald Trump is also currently being sued in two states over allegations that his for-profit Trump University fleeced people out of hundreds of thousands of dollars.
Most women don't plan to vote for Donald Trump.
This one isn't from Conway's book; it's from current polls showing Trump getting crushed among women voters.
A Washington Post-ABC News poll released in June found that 77% of women had an unfavorable view of Trump, and current polls show that Clinton had a 23-point lead among women in August.
The Kellyanne Conway of 2005 might have seen this coming.