While visiting Israel's Yad Vashem Holocaust Memorial on Tuesday, President Donald Trump took a few moments out his already-truncated tour to sign the museum's guestbook, as previous presidents and dignitaries have done in the past.

Here is the solemn, thoughtful message he left. And yes, the bizarre capitalization is all Trump:
IT is A gREAT HONOR TO BE HeRe WiTH ALL OF MY FRieNDS - SO AMAZiNg + WiLL NeVeR FORGeT!
Because, when faced with one of the worst atrocities of the modern era, the first words that comes to most people's minds are "so amazing" and "all of my friends." (What, no "it was great hanging out with you in homeroom"?)

G/O Media may get a commission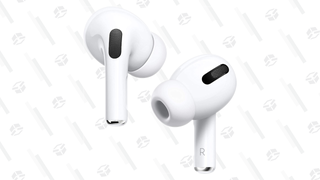 28% Off
Apple AirPods Pro Wireless Earbuds
This is hardly the Trump administration's first Holocaust hiccup. In April, White House Press Secretary Sean Spicer was forced to issue four corrections to his assertion that Hitler never used chemical weapons on his own people.
That same month, the Trump administration appeared to have plagiarized large portions of text from the U.S. Holocaust Museum's website in a White House statement for Holocaust Remembrance day.
Speaking of similarities, Trump's breezy note at Yad Vashem shares remarkably similar verbiage as one he wrote to Israeli President Reuven Rivlin that same day.