At least 84 people were killed in Nice, France, after a trucker plowed through a crowd of people gathered to watch Bastille Day fireworks, leaving many more injured. French President François Hollande has condemned the killings as a terrorist attack, the third to shake the country in 18 months.
The attack unfolded late Thursday night as hundreds congregated on the seaside Promenade des Anglais to watch fireworks. According to local reports and witnesses, the truck turned onto the street and continued barreling down the strip for 1.1 miles, swerving to hit as many people as possible before the driver was shot and killed. Christian Estrosi, the president of the region where Nice is located, said the truck used in the attack was loaded with firearms and grenades, some of them apparently fake.
Police identified the driver Friday as 31-year-old Nice resident Mohamed Lahouaiej-Bouhlel, from Tunisia. Local media reported that Lahouaiej-Bouhlel was "known to police" for petty crimes, and was not on any terrorist watch lists.
Damien Allemand, a journalist for local paper Nice-Matin, described to BuzzFeed News watching the truck speed through the crowd. "He was 5 meters from me. I ran towards a safe place at Le Cocodil. I went out after to see what happened. Nobody was moving anymore. In two minutes, the promenade became like a desert," he told the website. "I went to the scene and it was…I don't have words. There was blood everywhere, a guy cut in half."
Another witness, Tony Molina, told CNN, "There was still a crowd of people and then you just see this big white panel truck, I couldn't see the driver, but it just kept going at different angles from left to right at 25 to 30 miles and hour."
G/O Media may get a commission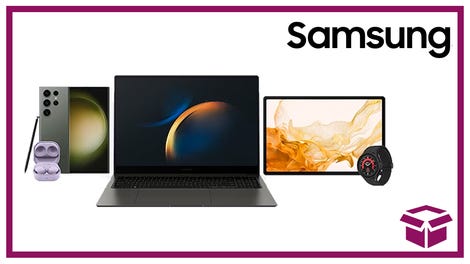 24 hour deals
Discover Samsung - Daily Deal
Multiple witnesses described to French media hearing gunfire as the white truck mowed down people walking in front of the Palais de la Méditerranee, a beachfront hotel. "A huge number of people started running, then there was a lot of gunfire," a witness named Michel told the French television station iTele. Police have not confirmed reports of gunshots, but have placed the city on lockdown.
In footage recorded by eyewitness Nader El Shafei and released to The Associated Press, police can be seeing firing 25 shots at the driver after the truck had come to a stop.
"I was waving to the driver, 'Stop, there's a girl under the truck,'" Shafei told NBC News. "I saw him pick up a phone, I thought, and at this point I still think it's an accident and then I see he pulls out a gun. It looked like a handgun, a Glock. He pulled it out and I understood something was wrong … and then I see the police shooting him."
In a press conference early Friday morning, Hollande told reporters, "France has been struck on the day of her national holiday—the 14th of July, Bastille Day—the symbol of liberty, because human rights are denied by fanatics and France is clearly their target."
President Barack Obama responded to the attacks Thursday evening, writing in part, "we stand in solidarity and partnership with France, our oldest ally, as they respond to and recover from this attack."
The attack follows a series of terrorist atrocities in France over the last 18 months. In January 2015, 12 were killed when two brothers stormed the satirical newspaper Charlie Hebdo armed with assault rifles. And in November 2015, 130 were killed in a string of coordinated attacks across Paris; the most deadly of those occurred at the Bataclan Theater, where 89 died in a flurry of gunfire.
Hollande extended the country's state of emergency, which was put into place following the Paris attacks, for another three months on Friday. Just hours earlier he had announced that it was due to end on July 26.
No one terrorist group has claimed responsibility for the attack, including the Islamic State, which revealed itself to be behind the Paris killings. Hollande described the attacks as "terrorist in nature."
Videos and photos posted to social media from the scene in Nice show people running down streets and bodies lying on the ground (warning: graphic images linked below).
In one video apparently recorded from a balcony overlooking the street where the attack occurred, the truck can be seen speeding through the crowd:
And in one grisly video posted to YouTube, bloodied, mangled bodies could be seen strewn about the street. The video was eventually removed.
This is a developing story and will be updated as more information becomes available.
Aleksander Chan is Fusion's News Director.
Michael Rosen is a reporter for Fusion based out of Oakland.
Patrick Hogan is a reporter for Fusion based out of New York. E-mail at patrick.hogan@fusion.net.