This is what happens when the president of the United States sides with neo–Nazis. They feel emboldened and begin to lash out with reprehensible acts, such as spray–painting swastikas on schools and shattering glass memorials honoring the victims of the Holocaust.
On Aug. 14, Splinter's Eleanor Sheehan reported that a teenage vandal had shattered the glass of the New England Holocaust Memorial in Boston with a rock, disgustingly reminiscent of Kristallnacht, the 1938 pogrom against Jews in Nazi Germany.

Now, HuffPost is reporting that a spike in anti–Semitic incidents has occurred since the violent weekend rally in Charlottesville, VA, which began with white supremacists and neo–Nazis holding an intimidating nighttime tiki torch rally and ended with a terrorist attack that left counterdemonstrator Heather Heyer dead and several people injured.

A day after the vandalism of the Boston Holocaust memorial, someone shattered the glass doors at the K'hal Adas Yereim synagogue in Queens, New York, HuffPost reported. That occurred just hours after President Donald Trump infamously delivered impromptu remarks at Trump Tower in which he characterized the neo–Nazis, KKK, and other white supremacists at Charlottesville as "very fine people."

The same kind of intimidating vandalism happened across the country in Alameda, CA, when someone threw rocks and shattered windows at Temple Israel. According to HuffPost, "Since the rally in Charlottesville, the Anti-Defamation League [ADL] has tracked dozens of anti-Semitic incidents across the United States."

G/O Media may get a commission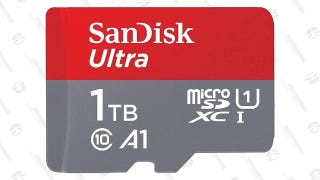 Save $75
SanDisk Ultra 1TB MicroSDXC Card
These incidents, documented by the ADL, include a man urinating on a synagogue in Philadelphia, and people drawing or spray–painting swastikas on homes, trees, schools, restaurants, and other buildings in Michigan, California, Ohio, Florida, Connecticut, Washington, Pennsylvania, and other states.

In Springfield, OR, someone unfurled neo–Nazi banners on a highway overpass that said, "UnJew Humanity" and "Jewish Financing Available."

In many places, such as in Murfreesboro, Tennessee, Trump's name was spray–painted alongside the swastikas, leaving no doubt that these bigots are empowered by the man encouraging them from the White House.

According to the ADL, the number of anti–Semitic incidents reported in the U.S. has surged by 86% in the first quarter of 2017 compared with the same period last year. And that's after a 34% increase for all of 2016 compared with the year before that.

"One of the most significant things about Charlottesville is that it showed there's a young generation of white supremacists willing to openly display their hate and anti-Semitism in public and in full view," ADL National Director Jonathan Greenblatt told HuffPost.