A Walmart parking lot in Chico, CA has become a makeshift evacuation shelter for dozens of people who have been displaced by the Camp Fire, according to Redding.com. The fire, which began last week and quickly exploded in size, is now the deadliest and most destructive fire in California history.

Some of the 50,000 people who were evacuated are living in shelters set up by emergency services, but others either couldn't find room or didn't want to stay in cramped conditions.
From Redding.com:
At least three of the seven evacuation centers, including one each in Chico, Oroville and Orland, are at capacity. Churches across the county have opened their doors. Some families are camping out in their cars at parks. About 100 people took refuge at a Lake De Sabla north of Paradise, according to a CBS news report. Others are staying with family or friends.
The Chico parking lot became one space to congregate. People are living there in trailers, tents, and other makeshift shelters. It's also become a donation center, with an entire area dedicated to free clothes, and several food trucks passing out free meals.
Many who want to donate are simply walking into the Walmart and buying supplies for those outside.

G/O Media may get a commission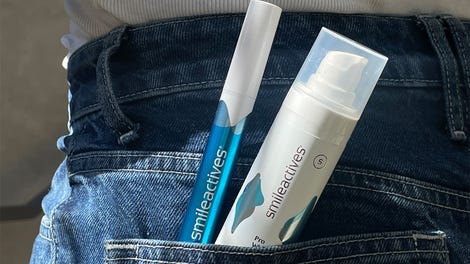 58% off
Whitening Powerhouse Pen & Gel Duo
"They gave me a pair of pants," evacuee Daniel Hansen told KRON 4. "They went into Walmart and bought me a pair of pants. He didn't have to do that for me, but he did."
Most of the evacuees in the parking lot came from Paradise, one of the towns in the path of the fire that was almost entirely destroyed.
"Our dream is gone right now, but I just want to say everyone out here has been so gracious, and we are so thankful for our friends who are so supportive in all of this," evacuee Karyn Bartley, who lived in Paradise, told KRON 4.
Many have come from far away to volunteer, handing out hundreds of free meals and free supplies. One food truck owner drove all the way from San Luis Obispo in Southern California.
"It's heartbreaking to think about what these people went through, but my wife and I thought we always talk about trying to help, and we just thought we gotta load up and just go do it," volunteer Chad Noland told KRON 4.
The Camp Fire, which is only 30 percent contained, has destroyed 125,000 acres, leveled 7,000 buildings, and killed at least 42 people, with over 200 still missing. On Monday, after days of complaining and blaming the fire on bad forest management, President Trump declared a state of emergency.
A long road to recover awaits those whose community was destroyed. But many don't even know if their houses are still standing.
"My daughter lost her home, she knows, and my mom lost a home in Paradise, and about 30 of my friends lost a home," Denise Chester Batres told Redding.com "I don't know if I lost my home yet. If my home is still standing though, praise God."