Hear that dull roar in the distance? That's the sound of hundreds of thousands of Harmonizers—pop divas' Fifth Harmony's uber-dedicated fan base—rushing to click and purchase the group's long-awaited debut album, "Reflection." Yup, Harmonizers actually support their babes with (Oprah) dollars, and though "Reflection" just came out today, it's already shot to the number-one slot on the iTunes chart.
(In fact, Fusion just released a special behind-the-scenes documentary about the making of "Reflection" yesterday—click over here to watch it if you haven't already!)
In the realm of big-budget pop albums, "Reflection" certainly deserves that top chart slot. If you're mostly familiar with the group via its recent sassy, ultra-catchy singles—"Bo$$," "Sledgehammer," and, lately, the Kid-Ink-featuring "Worth It"—the rest of the album is worth a listen.
Sure, sure, the group got together through Simon Cowell and "The X Factor," but in the little over two years since they took third place on that show, their sound has matured by seeming light years. No longer squeaky-clean teen poppers, on "Reflection," the women have matured into a neck-snapping, almost aggressive sound powered by serious, smoky vocal chops. There are plenty of super-upbeat moments, too; if this album doesn't improve your mood within a few minutes, you've got an iceberg for a heart.
G/O Media may get a commission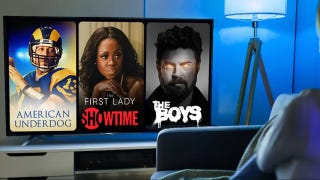 UNDER $1
99¢ Prime Video Channels
So here are three "Reflection" album tracks you need to listen to right now that prove it.
"Everlasting Love"
While the album boasts a couple of high-energy dance-pop tracks, the girls of Fifth Harmony actually boast the kinds of voices that can carry old school-ish R&B tunes. This piano-laced track around the middle references greats like Mariah Carey (though not as much as the following track which is actually called "Like Mariah") while updating a kind of 1990s sound.
https://play.spotify.com/track/5FTmUdgqcDTukNT8euZA8r
"Reflection"
This title track's gotta be due out as a single because the girls straight-up sound like Bbay Beyonces here. "Reflection" (the song) is also the kind of low-end-synth-laced, female-empowerment song that Bey fans will love. Check the lyrics of bridge: "You'd be rich if looking good was your profession/Think I'm in love/Cause you so sexy/Boy I ain't talking 'bout you, I'm talking to my own reflection." Well, we can't all feel that great about ourselves every day, but at least we can spin this track to try.
https://play.spotify.com/track/02y4CADbBLKy1dpFsSeay5
"We Know"
One of Fifth Harmony's defining moments on "The X Factor" was when, early on, the group tackled an a capella rendition of Shontelle's"Impossible." Fans who got chills there should skip straight ahead to "We Know," which ditches the slick, layered production of a lot of the rest album and strips things down to killer minor-key solos, and, yes, harmonies.
https://play.spotify.com/track/4ay1nveMI5wWNTZPfdvy1w
Hooked yet? Go watch Fusion's behind-the-scenes documentary—part of our new web series "Sound Bites"—about the making of "Reflection."
Arielle Castillo is Fusion's culture editor, reporting on arts, music, culture, and subcultures from the streets on up. She's also a connoisseur of weird Florida, weightlifting, and cats.