Happy New Year! Your meds might cost more this year, starting yesterday. According to the Wall Street Journal, pharmaceutical companies are raising the prices of "hundreds" of drugs, with an average increase of 6.3 percent.

While drug companies didn't raise prices by as much as in previous years—in 2014, drug prices increased by 13 percent—the price of some drugs rose significantly. Allergan, the company that makes Botox, raised the prices of "more than half of its portfolio," according to the paper, with 27 prices raised by 9.5 percent. That might sound low, but a 2017 Bloomberg piece laid out how Allergan's actions work to increase drug prices across the board: Through shady deals and gaming the patent system.
These games are how AbbVie's Humira, which is used to treat inflammatory conditions such as rheumatoid arthritis and Crohn's disease and is the world's best-selling drug, can continue to be sold for $60,000 a year in the U.S. while Britain's National Health Service gets to strike a deal to pay $384 million less per year for the new biosimilar (generic) version, available in the EU and Britain but not here.
Allergan, meanwhile, transferred the patent for its eye drug Restasis last year to a Native American tribe to protect its exclusivity:
Under the deal, which involves the dry-eye drug Restasis, Allergan will pay the tribe $13.75 million. In exchange, the tribe will claim sovereign immunity as grounds to dismiss a patent challenge through a unit of the United States Patent and Trademark Office. The tribe will lease the patents back to Allergan, and will receive $15 million in annual royalties as long as the patents remain valid.
G/O Media may get a commission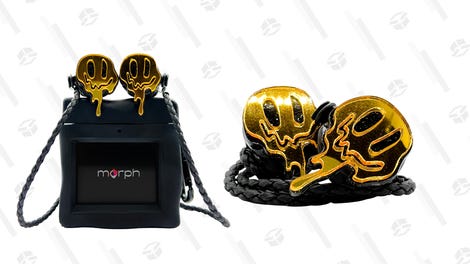 morph audio
Morph Earphones
Yet in 2016, Allergan's CEO boasted that it would "keep [drug price] increases under 10% as part of a 'social contract' with patients," according to the Journal. Does that social contract include legal trickery to keep an exclusive patent and prevent cheaper generics from reaching the market? Apparently so!
The Journal noted that many of this year's price increases are "relatively modest this year, amid growing public and political pressure on the industry over prices." It's true that the pharmaceutical industry had perhaps its worst year ever in Washington; a major piece by Stat today outlined how PhRMA, the industry's absurdly well-funded lobbying group, actually lost a major battle for the first time in 2018. (No wonder, then, that PhRMA was so desperate to reach Washington power-players with sponsorships of Politico's health newsletter.)

But the fact remains that any price increases are evidence that the pharmaceutical industry isn't being regulated properly; that millions of Americans who are already struggling to pay for drugs will find themselves worse off this year; and that boy, our standards are low. Increasing drug prices by a few percent—when drug prices are already absurd, unaffordable, and the highest in the world—is not good news.