COLUMBUS, Ohio— Fate was feeling mischievous Friday night. She was in the mood for trouble. So she brought the Mexican national soccer team into a red state to play Team USA just four days after Donald Trump started calling himself president-elect.
To add another level of intrigue, the game was a qualifying match for the 2018 World Cup in Russia, which also played an outsized role during the U.S. election. If sports are a spectacle where people can play out their nationalist fantasies, you couldn't have written a more perfect script for Friday night's match.
The U.S. - Mexico soccer rivalry is the only meaningful sporting rivalry between the two countries. It's a rivalry stoked by the fans. The U.S. Men's Soccer team has a consistently large and loyal fanbase, which itself is a pretty remarkable feat considering the soccer team is not very good at what they do. For a country that prides itself exceptionalism, the U.S. fields a pretty mediocre squad.
Before kickoff,  U.S. coach Jurgen Klinsmann said that despite the election, the match was "purely a sporting event". Silly Jurgen. Sports are never purely about sports. It's way bigger than that.
G/O Media may get a commission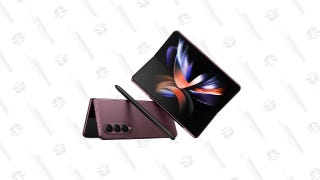 Save Up to $300
Galaxy Z Fold4
The game was played in Columbus, Ohio, a sort of spiritual home for American soccer. Mapfre stadium is the first Major League Soccer-specific stadium in The United States and it is the site of a legendary streak of American victories over Mexico known as the "Dos a Cero". Starting in 2001, Columbus has hosted four U.S. - Mexico World Cup qualifying matches. All four times the U.S has beaten Mexico 2-0, or "Dos a Cero" in Spanish.
I came to Columbus to get a sense of what it would be like to see the (mostly white) American fans mingling with Mexican fans on Day 4 of Trump's America. Ohio voted twice for Obama but this time went for Trump. Given the amount of social unrest we've seen in the past year, you would expect the sparks to fly outside Mapfre when you shake up that cocktail of testosterone, beer, nationalism, and SPORTS.
I wanted to take the pulse of the tailgate party. I wandered around the parking lot for a bit and noticed that the vast majority of the fans were Americans. That may seem intuitive, but in most U.S. cities where these two teams play, Mexican fans tend to come out in greater numbers. Not so in Columbus, Ohio.
I walked up to a group of Mexican fans who were listening to a norteño band, which is like a mixture of mariachis and polka, and asked one of the gentleman if Trump's victory changes everything.
"No. I mean things will be hard, but things are always hard. He'll be there four or eight years. And no matter what, we'll still be here."
Given my own state of bewilderment and panic over Trump's victory, it was a nice dose of perspective.
The American fans were self-aware enough to acknowledge the elephant in the room. Everyone I talked wearing red, white and blue made a point to assure me, with varying levels of sincerity, that they had nothing but respect for the Mexican people and hoped they could all enjoy the soccer game together in peace and harmony.
One of the fans I talked to was a young skinny white kid who had just moved back from Mexico City, where he'd lived for the past year: "The way the media portrays Mexicans is totally wrong. I love them. And I love Mexico City. I've been texting with my friends back in Mexico and telling them 'Sorry for the Dos a Cero!!!'"
Another fan I spoke to was a member of The American Outlaws, the team's largest official fan group. Before the game they'd had meetings to make sure that no fans engaged in any racist behavior. They were even active on Twitter, discouraging fans from engaging in ugly chants like "BUILD THAT WALL."
The Outlaw I spoke to told me that he was confident that things would be civil. Then, with a twang of slight worry, added: "Well, I hope so. I mean, there will be 30,000 people there. There could always be four or five bad apples. Hopefully the rest of the crowd drowns them out."
As I marched with the rest of the Outlaws toward the stadium I asked another fan what the game meant to him: "Oh man this is healing. This is healing for me because after the election I just… I mean. We really need to come together."
I walked past an endless field of cornhole matches, and played foosball with some American fans who chanted "USA! USA! USA!" after every goal. I made my way towards a group of Mexican fans who were firing up a grill. I asked if they wanted to speak to me about the game and the guy immediately offered me a taco. He said in Spanish "Do you know about Chihuahua tacos? Do you know about these tacos? Do you like them? Do you want frijoles on them?"
Yes I would like frijoles.
"Do you even know what frijoles are? Are they a fruit or a vegetable?"
They're a legume, I said in my thick Spanish accent.
"Yeeeaahhh look at this Spaniard! He's so smart. Hey man, we're gonna beat the Americans this time. No more dos a cero. This time it's gonna be Tres a Cero… for us!!!".
The good vibes extended to the players themselves. Before the game, rather than stand for portraits as two separate teams, they decide to band together in a show of solidarity. Awwww.
I didn't have a press credential so I went to watch the game at a bar in Columbus' bustling Short North district. The United States was completely outclassed by a more talented Mexican team. Mexico jumped out to a 0-1 lead in the 20th minute when the U.S. Captain Michael Bradley was dispossessed by Miguel Layun, who managed to get off a rather weak shot that somehow trickled in past U.S. keeper Tim Howard. No more Dos a Cero.
At halftime I decided to switch bars. I chatted up a bartender who was on her cigarette break, asking her how she felt about Trump: "Well… I'm somber. Actually this whole town is somber. Like, no one can understand how anyone can vote for him. I don't know anybody!"
One of the more underappreciated phenomenon of the age of inequality that we currently find ourselves in, is that it's not just income inequality, but regional inequality. Simply put, some parts of the country are doing really well, while others are doing way worse. The effects this has on our society and our general cohesiveness is hard to overstate. While Ohio broke for Trump by 400,000 votes, Columbus itself was definitely #WithHer.
Columbus is a happenin' place, so to speak. Nationwide insurance is headquartered here, as is Victoria's Secret. It's the state capital and is home to Ohio State University and its 50,000 students. It's not the dilapidated rust belt community whose manufacturing base has been shredded by globalization and automation. In the era of free trade, Columbus is one of the "winners."
But that's why smoking bartender didn't know a single Trump supporter in a state that voted red. In general, Trump did better where the economy was worse. And in general people who hang out in the areas where the economy is doing well don't also hang out in the places where it's not.
After halftime the U.S. came blustering out of the gate, catching the superior Mexican team off guard and tying the game on an equalizer by Bobby Wood, who barged through the center of the Mexican defense to bundle the ball into the back of the net.
But the Mexicans were able to compose themselves and retake control of the game. With only a minute to go, a corner kick from Mexico was headed into the net at the front post by Rafa Marquez, the 37-year-old veteran of a thousand battles and easily the most legendary and decorated player on the field. Mexico won it 2-1 on America's turf.
Who knows whether Trump will build a wall. Who knows if he saw or even knew about Friday's soccer match. But as the ref blew the final whistle, I couldn't help but wonder if some of the Mexican fans I spoke to earlier were thinking "We landed the first punch. Take that, Trump".
Nando Vila is Vice President of Programming at Fusion and a correspondent for America with Jorge Ramos.