Weeks of protests have failed to persuade NBC to dump Donald Trump as host of "Saturday Night Live" this weekend. Now advocates are taking their fight to the advertisers.
Starting Thursday, civil rights groups say, Latino leaders will call all the advertisers that have aired an ad on "SNL" in the past four weeks and urge them to pull any commercials from this week's show.
"There's no way that NBC can continue to do this and not think that it's going to cost them something. The word will travel within the Latino community," Alex Nogales, president of the National Hispanic Media Coalition, which works to ensure Latinos are portrayed fairly in the media, told Fusion.
Nogales said he has personal connections at T-Mobile and would personally call the company and urge it to pull any planned ads. T-Mobile has aired commercials on three of the last four "SNL" broadcasts, according to a list of advertisers compiled by NHMC and obtained by Fusion.

A company spokeswoman said T-Mobile had no plans to advertise this week. But dozens of other companies are on the list.
G/O Media may get a commission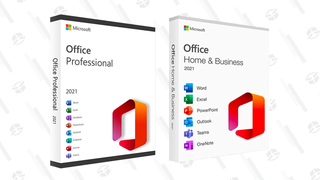 89% off
Microsoft Office Professional 2021 Lifetime License
"I know it could cost them, but I'm going to ask them to consider getting out of [airing ads on SNL] because Latinos are a large section of their consumer base," Nogales said in a telephone interview before a rally he helped organize outside NBC headquarters in New York.
Latino leaders are organizing petitions and protests over the show. At Wednesday night's rally, organizers said they planned to present 520,000 signatures calling on NBC to dump Trump.
NBC ended its business ties with Trump in June after he said in his presidential campaign announcement that Mexicans and other immigrants were rapists, criminals, and drug-dealers. NBC also backed out of a scheduled broadcast of the Miss Universe pageant.
The network said at the time that it was ending its relationship with Trump because of his "derogatory statements" about immigrants. Three months later, Trump was announced for "SNL."
"Now they're in a situation where they are doing this for purely ratings reasons," Nogales said.
At a book signing in New York on Tuesday, Trump seemed to mock the protesters. "It's going to be one of the highest-rated shows ever," he said, according to The New York Times.
NBC has not commented on its plans.
"I'm always hopeful that people will realize their mistake, be humble about it and work to make the situation right," Nogales said.