GUAYAQUIL, Ecuador —Just a short cab ride from a central park teeming with iguanas and bustling with cigarette vendors, lies one of the world's most unlikely space programs.
It's known as EXA, the Ecuadorean Space Agency, and it's on a mission to show that small countries have an important role to play in space.
With a small government and private sector budget, the privately run space agency recently built and put its first two satellites into space—an impressive feat in a country that only has one trained astronaut, who's never actually been to space himself.
In a warehouse that's accessible only to those with special security clearance, volunteers have built machines that replicate the conditions of space travel, including a set of large speakers that test how satellites hold up to the vibrations of rocket launch.
G/O Media may get a commission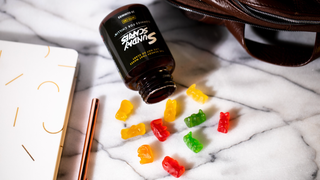 10mg CBD Gummies (22-Count)
EXA' satellites are just four inches tall and weigh less than 3 lbs—a technology that dwarfs in comparison to a recent satellite built jointly by Brazil and China that weighs in at 2 tons and monitors deforestation across the Amazon.
But Ronnie Nader, EXA's director and the country's only astronaut, says his tiny machines are helping local engineers to innovate and take their skills to outer space. Just as importantly, he says, his small but ambitious space program is helping a new generation of Ecuadoreans dream about space research and scientific discovery.
"This is all about empowering ourselves," says Nader, who was trained as a Russian cosmonaut for four years before returning to Ecuador, with dreams of building his country's first space agency.
"You can buy people a satellite," Nader added "But you can't buy them their self-esteem."
Much of EXA's work has been constructing softball-sized satellites known as "cubesats." The technology was invented by a U.S. college professor as a relatively inexpensive way for grad students to work with satellites, but cubesat missions have since become a good way for developing countries with small budgets to boost their own aerospace and research capabilities.
In Costa Rica, Ecuador and Peru, the cubesat space race has already led to several interesting innovations, including the world's smallest satellite, and new ways of relaying data on rainforests.
Nader says that in the run-up to launching Pegasus, his country's first satellite, EXA developed new technology to decompress broadcast signals that will enable small satellites to send video signals from space.
To power its satellite, the Ecuadorean space agency invented wafer thin solar panels, only 1.5mm thick, that could be used on other micro satellites.
"Necessity forced us to invent things," Nader said. "We had to find good performance for low cost."
Low cost is also encouraging innovation in Costa Rica, whose space agency is planning to send a satellite into orbit on a budget of just $300,000.
Carlos Alvarado, director of the privately run Central American Space Agency (ACAE), says he was able to reduce operational costs for Irazú, Costa Rica's first satellite to launch in 2017, by teaming up with local ham radio enthusiasts who have agreed to download data relayed by the satellite.
The Tico satellite will relay information about biomass growth in a parcel of the Costa Rican rainforest to ground stations in different parts of the world. The data will help scientists study how much carbon dioxide the forest captures each day.
Alvarado hopes that this kind of system can be scaled up so other countries can gather accurate data on how their forests are contributing to the fight against climate change.
But Costa Rica's first foray into space also has a business purpose.
"We want to prove that we have the technical capabilities to attract investment from aerospace companies," Alvarado said.
It's not a crazy idea. There are already 40 aerospace companies working in Costa Rica, producing a range of basic equipment. Alvarado hopes his space program will help Costa Rica attract more elaborate manufacturing companies.
"South Korea started its own space program in the '80's with little help from anyone," Alvarado said. "Now they are one of the leaders in high definition cameras for satellites."
In Peru, universities are leading the country's push into space.
In 2013, the Catholic University of Peru (PUCP), launched two cubesats built entirely by students. One of the cubesats, the mobile phone sized "pocket pucp" actually sprung out from its parent satellite in mid-orbit, and is believed to be the world's smallest satellite.
Jorge Heraud, the engineering professor who oversaw the project, says the micro-satellites built by Peruvian students don't have many practical capabilities, but are an important first mission for a young generation of aspiring space engineers.
"In 25 years these engineers will be experts in space technology, and they might be able to build satellites that achieve many things," Heraud said.
Back in Ecuador, Nader says that after building two cubesats for his country's space agency, he's making plans to go there himself.
The Ecuadorean astronaut says he's going to team up with a space travel company to take a series of suborbital flights in hopes of taking samples of the ozone layer.
It's not as fancy as spending a week on the International Space Station, but it's cheaper and potentially more useful for Ecuador, where high intensity UV rays along the equator have been affecting agricultural productivity. Nader wants to compare his locally gathered data on UV rays with changes in the ozone layer.
"No one has ever done this," Nader claimed.
The mission, slated for 2018, would turn Nader into the first Ecuadorean in space. And it would be further proof that space is not off limits to small countries.
"Space is also part of our destiny," Nader said.  "We are also part of humanity."
Manuel Rueda is a correspondent for Fusion, covering Mexico and South America. He travels from donkey festivals, to salsa clubs to steamy places with cartel activity.