QUITO, Ecuador — Ecuador says the British government has refused its request to allow WikiLeaks founder Julian Assange to leave the South American country's embassy in London for a medical examination.
Assange has been "constantly" suffering from a pain in his right shoulder the last three months, and has been told by a doctor he needs an MRI scan, Ecuadorean Foreign Minister Ricard Patiño told reporters in Quito on Wednesday.
"We've been told that he is free to receive medical assistance, but that the arrest warrant against him still stands," Patiño said. "In other words, he can go to the hospital, but he will be arrested."
Asssange sought political asylum at Ecuador's embassy in London in August 2012 to avoid being extradited to Sweden to face rape and sexual assault charges.
G/O Media may get a commission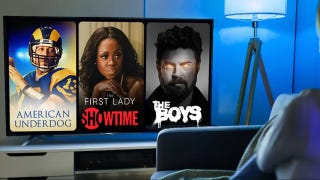 UNDER $1
99¢ Prime Video Channels
Assange has described the charges as a smear campaign against him. He argues his extradition to Sweden could eventually lead him being sent to the United States, where officials have threatened to press charges against him for publishing hundreds of classified U.S. military and diplomatic documents.
Patiño said doctors have examined Assange in the embassy, but an MRI machine cannot be brought into the building because of its size and weight.
The foreign minister added the British government recently sent a diplomatic note of protest to Ecuador saying it would "revise" international cooperation agreements with the South American nation if it doesn't hand over Assange.
Britain has accused Ecuador of trying to obstruct justice, and says it is legally bound to comply with Sweden's extradition request.
Ecuadorean embassy documents leaked to Buzzfeed earlier this year suggest Ecuadorean diplomats considered several different plans in 2012 to smuggle Assange out of the embassy, including dressing him up as a woman or possibly putting him in a large diplomatic bag.
The decision by Britain comes after Scotland Yard this week called off its round-the-clock surveillance of the embassy, citing the $4 million a year cost, according to the British Foreign Office.
British officials said they are still monitoring the embassy. If Assange leaves the building, he would likely be arrested.
Manuel Rueda is a correspondent for Fusion, covering Mexico and South America. He travels from donkey festivals, to salsa clubs to steamy places with cartel activity.