The arrest of Joaquín "El Chapo" Guzmán Loera, the head of the Sinaloa cartel, on Saturday was an event of enormous importance in the Mexican government's fight against organized crime.
Mexican public opinion had long ago decided that this government, and the previous one, were not serious about hunting for Guzmán, preferring the relative stability and lower-violence approach of the Sinaloa cartel to the more militaristic style of other cartels, such as the Zetas.
That the government would go after, and successfully capture El Chapo shows that this perception is fundamentally flawed, and that the government of President Enrique Peña Nieto is committed to taking on those criminal groups that challenge its authority.
Not only is the arrest is a major success for Peña Nieto and U.S.-Mexico security cooperation; it promises to be a deeply disruptive event for drug-trafficking groups in Mexico.
It is impossible to predict what impact this will have on cartel-related violence and drug flows. But El Chapo's absence will change the balance of power within the Sinaloa cartel, and will open the way for a transition of power that will be more or less bloody. If the past gives us any indication, the arrest may generate increased levels of violence in the short term if the Sinaloa cartel becomes fragmented and other groups look to seize their mantle.
G/O Media may get a commission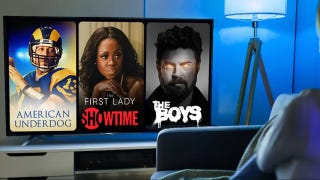 UNDER $1
99¢ Prime Video Channels
However, it is also possible there may not be such a power struggle within Sinaloa – when El Chapo was arrested in 1993, the cartel continued operating smoothly for almost a decade, thanks to a well-established hierarchy and command structure. Guzmán's number two, Ismael Zambada García, in all likelihood will take over in his place and the cartel could easily continue to operate smoothly.
All the details are not known yet, but the apparent level of the U.S. government's involvement in El Chapo's arrest is a positive sign for bilateral relations. The presence of Drug Enforcement Administration and and the U.S. Marshals Service on the ground during the arrest implies a deep level of coordination. Intelligence sharing by U.S. law-enforcement agencies with their Mexican counterparts, explicitly acknowledged by the Mexican government, suggests that concerns over security cooperation between the two sides may be less serious than previously thought.
The handling of trial proceedings by the two countries will require even greater cooperation between the U.S. and Mexico. The question of extradition could prove tricky to navigate for both nations.
U.S. officials are eager to have El Chapo extradited; he faces multiple federal indictments and law-enforcement agencies don't want a repeat of 2001, when he escaped from a Mexican prison. But Mexican authorities also want to prove to a skeptical public that the country's justice system can be trusted to handle a high-priority case.
We now have to wait and see how El Chapo's arrest plays out in Mexican public opinion. The government has low ratings in the polls, partly because of its seeming inability to address problems of organized crime and violence. Already, social media has been filled with posts and comments suggesting that the man arrested is not El Chapo.
Such skepticism over government announcements is normal in Mexico. But, if the government is able to put El Chapo away for good, it will cause many in Mexico to reconsider their views on the current administration.
Duncan Wood is Director of the Mexico Institute at the Woodrow Wilson International Center for Scholars in Washington, D.C. Miguel Salazar is the public affairs specialist at the Mexico Institute.