In the late 1930s, the United States faced a moral dilemma: How would it respond to the hundreds of thousands of Jewish refugees attempting to flee Europe amid the rise of the Nazi regime?

Public opinion was decidedly against the idea of letting Jewish refugees, even children, onto the nation's shores, and many national politicians spoke out against accepting them.
First lady Eleanor Roosevelt, however, saw that Jewish refugees faced nothing less than a humanitarian crisis, and that, like today, America's reluctance to admit them represented little more than intolerance.
At a conference concerning the refugee crisis, Roosevelt told a crowd of over 700 attendees:

We must not let ourselves be moved by fear in this country. We have seen that happen too many times in other countries. Sometimes I worry about the possibility that we will follow their example.
G/O Media may get a commission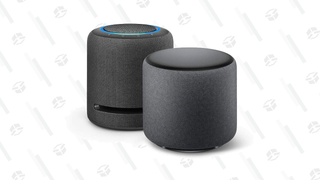 25% off - Prime Exclusive
Echo Studio + Echo Sub Bundle
You can read more about Roosevelt's speech in the November 29, 1939 edition of the New York Times. The First Lady delivered the speech at New York's Hotel Roosevelt to the Good Neighbor Committee on the Emigré and Community group. Roosvevelt alleged that intolerance was behind the refusal by Congress to admit Jewish refugees into the country and she pledged to find out who was funding the anti-refugee movement.
It was later revealed that the State Department had obstructed several efforts to aid refugees, and that Eleanor Roosevelt's husband, too, had his doubts about the intentions of the German Jews seeking asylum.
As we've displayed, the language that of the politicians and commentary of a pre-WWII America that refused to admit Jewish refugees closely resembles the language that's been used after the Paris attacks to suggest the U.S. should not admit the planned 10,000 Syrian refugees. Although the number of governors pledging their support to these refugees has risen over the course of the week, there are still at least 31 who are against the idea in some form.
Roosevelt's words are true today and should be considered. Fear, hate, and confusion is what terrorists attempt to spread with their actions, and its these ideas that the Syrian refugees are attempting to escape. As we've pointed out previously, there have been zero arrests for domestic terrorism by refugees living in the United States who were admitted into the country since 9/11. If that's not enough, perhaps the words of Eleanor Roosevelt can teach to embrace these refugees as well.
David Matthews operates the Wayback Machine on Fusion.net—hop on. Got a tip? Email him: david.matthews@fusion.net