In the early 1980s, accused sexual predator Roy Moore may or may not have been barred from his hometown shopping mall in Gadsden, Alabama, due to questionable conduct with teenage girls. Decades later, on the eve of Alabama's special election to replace Jeff Sessions' Senate seat, we went back to Moore's old haunt, the Gadsden Mall, and asked the mallrats there what they thought of him.

Some said Moore, during his 30s, stalked underage women near the Sears store bathroom. Others said the former Supreme Court judge was a joy to see in church on Sundays. Moore's bid for a U.S. Senate seat was felled late Tuesday night by Democratic contender Doug Jones. But speculation about Moore's past still swirls around his old stomping grounds.
These interviews have been condensed and edited.
Desa Wall, Jos. A. Bank employee
I'm very blue in a very red state. I voted for Jones. I just couldn't vote for Roy Moore. I learned about him during the whole 10 Commandments fiasco. I knew then how I felt about him. In my opinion, he wasn't upholding the laws as they're supposed to be upheld. It's not that I'm not a Christian or don't believe in the 10 Commandments, but I also very much believe in the separation of church and state, and that's not what he was doing.
G/O Media may get a commission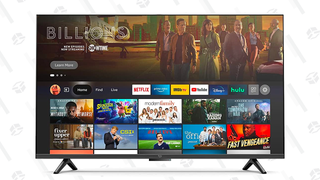 22% off
Amazon Fire TV - 50" Omni Series 4K - Early Access Deal
Let me go ahead and say emphatically that rumors of Moore being banned from the mall is hearsay. I have a 10-year-old boy, and 13- and 17-year-old girls. It played a huge role when deciding who to vote for. There were personal reasons, too, but I want to protect my girls, and they know what's going on. They've heard these stories. They wanted me to vote for Doug Jones.
Tammy and Jay Cole, mall patrons

Jay: I voted for Moore because of the values that he had, whether it be the 10 Commandments, the abortion issues. My thing is, I have not been perfect in my life. If I did something back years ago, I'd hope that somebody would not judge me on that. Even if I did something 20 years ago, people can change their lives. As a Christian, the devil always throws things up at you that you've done in the past. I don't know if Moore did these things or not. If he did it, then he's different now.
Now, you can say, "How can you say Christian values when this man is accused of something like that." But for us, it's more so, "He who hasn't sinned cast the first stone." I hope that it's not true. We have two daughters. Would it change my mind, if I found out before I voted that he had done that stuff? It probably would have.
Tammy: You're not guilty until proven guilty, and those accusations should have come out a long time ago. He's run for office many times. Why now? I worked here from the time I was 15 years old until I was 22, 23 years old, which was during the time I think these accusations happened.
He has represented good for a long time. Who else do you know who would lose his job to stand up for the 10 Commandments being posted? Who else, knowing that he might lose his job again, would stand up for what he believes in? He's trying to live a really good life.
Maurice Carlisle, Victoria's Secret employee, lifelong Gadsden resident

I did vote for Doug Jones. [Accusations against Moore] obviously did play a role in who I chose to vote for today. I didn't even know who Roy Moore was [until accusations surfaced during election season. Being from a small town, anything that is brought to light, you start hearing about a lot of things.
This is a very small town, and many people are stuck in their ways, small-minded. There's not a lot of people who really know how to branch out. A lot of people are scared of taking a stand or saying they believe in something that is different.
Forrest Fletcher, lifelong Gadsden resident

I voted Roy Moore because I'm a Christian and the moral values of him standing up years ago for the 10 Commandments and just his values and the things he stands for, and I'm a conservative so I believe in the things he believes, and I believe we need conservative people in this country.
If Moore is guilty of what he's accused of, I still would have voted for him. Two reasons. One reason: That's the guy's past, as bad as it was. I don't condone something like that; that's evil, perverted, but it's his past. Second of all, the way I look at it, the liberals stand for things that are just as corrupt and as bad. I would still vote for Moore, or maybe not at all.
Karon Bailey and Alan Rafalowski, mall patrons

Karon: I voted for the other man. Not Roy Moore. I'm more along the lines of a liberal and a Democrat, and I feel some of his policies don't fall into that. We're just glad to see that this election is going to be over.
Alan: I tend to vote Independent. This has been the most mudslinging campaign that I've seen in a while—since the presidential race. This place was supposedly Moore's preying grounds. I just know that because of the campaign.
Liz Morrow, grandmother, lifelong Alabamian
I voted for Doug Jones. I find a lot of merit in his policy goals. I have been reading about him since he was a young man, and I've been very proud of some of the things he's done. And I'm not very proud of the image that his opponent presents for our state.
It's really sad when you're embarrassed to tell people what state you live in, and that's sort of where I am. I've been in Alabama my whole life. I'm 69. So many hard things, bad things, happened here in Alabama in the '60s. Back then, I wasn't very proud to be an Alabamian either, but I thought we were getting better. The fact that Jeff Sessions and Richard Shelby won't support Moore—maybe that will sway a few people.
I didn't know anything about the allegations against Moore until all this news came out. There was such an abundance of it that it's hard to disbelieve, and the fact that it allegedly happened right here where we shop—it was kind of creepy.
Jason Duron, Jimmy Jazz employee
It ain't the 60s or the 50s anymore, at least last time I checked. We can't live in the past. I think the majority of this state still lives in the past. I voted for Jones. Why would I choose a pedophile? I got kids. The stuff I've heard people say: "It was 40 years since that happened." Well, say something like that happened to another race; they would've raised some charges. It's [white] privilege.
You live in the south, man—I find it hilarious. You got some people who are really out of their minds sometimes. Mentally retarded. Moore was endorsed by that retarded Trump, right?
Macayla Luallen, Sears employee, just turned 18
My mother said she didn't want to vote for Moore because of the allegations, and I'm like, "What if they're not true?" She said that she still doesn't want him in power because of them. Probably because of my age, I've just been hearing about a bunch of people coming forward like 10 or so years later after it happened, making all these allegations once he was running. I don't really know about Doug Jones; there haven't been as many rumors about him.
I didn't vote today because I didn't know a lot about it, the politics. I don't really get into it as much if I don't know what's going on. I didn't need to have a say in it.
Sean Keenan is an Atlanta-based freelance reporter focused on politics and crime. He's reported for myriad publications, including The New York Times, Atlanta Magazine, Creative Loafing, and more. He's also much too excited that he's been cited as a reference on Wikipedia.
Lynsey Weatherspoon is a commercial, portrait, and editorial photographer based in both Atlanta and Birmingham. Her work has appeared in ESPN The Undefeated, Sierra Magazine, In These Times and Birmingham's B-Metro.
This feature is part of Splinter's project to recruit local, embedded reporters, essayists, and photographers across the country. Read more here.