Having interviewed many EDM DJs at every festival under the sun (or moon, if you're a late-night raver like me), attending this past weekend's Electric Daisy Carnival in Orlando, Florida, was a refreshing experience. I got to go this time just as a music fan.
Amid the VIP sections, headliner DJs and ocean of shiny confetti I wish was cash, it's possible to forget what makes all of this happen is people like us. That's people who, for one or weekend, have opted out of a normal, Caribbean vacation for a let's-get-weird experience with our best friends. EDC Orlando was that magical weekend for me.
Attending festivals can at times be frustrating. The over-selling of tickets, long lines to the bathroom, you know, the typical first-world problems. But feeling completely at ease wasn't in my itinerary for EDC. As with life in general, I've learned the best moments at festivals happen unplanned.
So, I kick off the Saturday of the festival with pre-game festivities at a friend's hotel room, and it brought back that nostalgic feeling of pre-drinking in college because you couldn't afford the prices at the club (I still can't). That camaraderie between friends can't be bought or labeled, but it can be celebrated, and so we did.
After we entered the festival grounds, I was immediately taken aback — not by the multiple, hot PLUR girls wearing nothing but pasties, but that there was no line to get water. With free, unlimited refill stations around the festival, I knew things were off to a good start. After letting temptation get the best of me at the food trucks, it was time to do what we do best – dance!
G/O Media may get a commission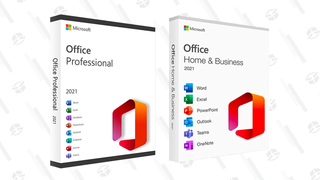 89% off
Microsoft Office Professional 2021 Lifetime License
With some of my favorite artists like UMEK, Gareth Emery and Kaskade (just to name a few) on the bill to perform, I was in EDM heaven. (The main exception, of course, was that the angels at these pearly gates wore yellow shirts that read "STAFF" on the back.) It was like a scene in a corny Adam Sandler flick where all the old friends reunite, except we're not corny or old.
The cherry on top of it all on Saturday was being with those friends at the top of EDC's staple carnival ride, the ferris wheel, while watching the intense light show from closing act Kaskade. With the friends, the music, the location, the love – it was the kind of scene movies are made of.
Don't get me wrong - I love reporting stories on the music. But being part of the story instead of telling it? I may love that just a bit more.