Welcome to WHAT NOW, a morning round-up of the news/fresh horrors that await you today.

In the wake of Hurricane Harvey, which ripped through Houston and left at least 70 dead, comes Hurricane Irma, a massive storm that's already destroyed multiple small Caribbean islands and is headed for Florida. But the head of the Trump administration's Environmental Protection Agency wants you to know that now is definitely not the time for any talk about climate change. Perhaps that's because he doesn't believe it exists.
"Here's the issue," EPA Administrator Scott Pruitt told CNN in an interview published Thursday night. "To have any kind of focus on the cause and effect of the storm, versus helping people, or actually facing the effect of the storm, is misplaced."
Pruitt is very much a member of the "science isn't settled" school of thought on climate change, and he's working for a president who once called climate change a "hoax" engineered by the Chinese. Most recently, Pruitt repeatedly refused to answer reporters when asked if Trump believes the truth about climate change.
Pruitt also told the network:

What we need to focus on is access to clean water, addressing these areas of superfund activities that may cause an attack on water, these issues of access to fuel. ... Those are things so important to citizens of Florida right now, and to discuss the cause and effect of these storms, there's the... place (and time) to do that, it's not now.
G/O Media may get a commission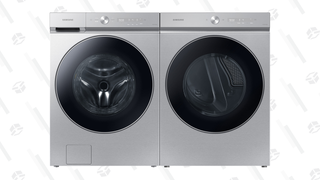 Get $500 back in credit
Last Chance: Samsung Bespoke AI Washer and Dryer Preorder
Sure! Those things are indeed very important right now! (As is evacuating hundreds of thousands of people from Florida.) But here's the rub: increasingly intense weather events like hurricanes are related to climate change. The mechanics of how climate change affects hurricanes is complex, but a few things are clear: climate change is real, humans have made it much worse, and the strongest storms are made worse by the effects of climate change, like rising ocean temperatures.
And we're not doing ourselves any favors by not talking about, and planning for, the next major storm.
WHAT ELSE?
A Harvard-educated Rhodes Scholar, Rob Porter, has one of the most important and unsung roles in the Trump administration: vetting every piece of paper that comes across the president's desk.

Hard-line conservatives are spoiling for an all-out war with House Speaker Paul Ryan this fall, with one organized group of Republicans going as far as to scheme about recruiting former House Speaker Newt Gingrich or former Pennsylvania senator Rick Santorum to replace Ryan.