BEIRUT, LEBANON – After three months of living under ISIS, Zein knew he had to escape. He'd recently heard of two gay men who were thrown off the roof of the highest building in Deir es-Zor, the Syrian city where he lived. One of the few times he left his house to go to the market, he witnessed the execution of an Alawite and a Shia – each killed with a gunshot to the back of the head. Fleeing would mean leaving his brother behind, but he had no choice. As a gay man living in ISIS-held territory, the 28 year-old was particularly at risk for horrific violence.
The siege of Deir es-Zor began in April 2014, and by July ISIS controlled most of the province. "All of my friends had already left, and I thought to myself: what am I doing here?" he told Fusion through a translator here.
To get to Beirut by bus, Zein (a pseudonym he requested because he faces, he says, specific, ongoing threats of violence) had to pass through four ISIS checkpoints and over 20 checkpoints controlled by Syrian president Bashar al Assad's regime. At the fourth and final ISIS stop, militants collected the IDs of everyone onboard. They took three men outside because they had had their eyebrows plucked –that kind of grooming is considered a very feminine activity in Syria, and was interpreted by militants as something only a gay man would do. Once outside, the ISIS fighters flogged them. One of the men was let back on board for reasons that Zein never found out. The other two were taken behind the bus, he said, and executed.
Zein made it through that stop. And he got through each of the 22 regime checkpoints by paying the soldiers the equivalent of a few US dollars. But escaping ISIS was just beginning of his ordeal.
G/O Media may get a commission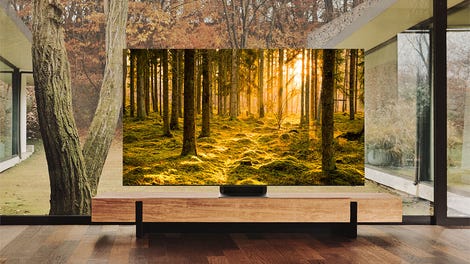 Up to 40% off
Samsung Smart TVs
The Syrian civil war that began in 2011 has created over three and a half million refugees. Lebanon alone is estimated to have taken on about 1.3 million of them, leading to a crisis in this country that many here worry is unsustainable. When asked how many LGBT Syrians are refugees in Lebanon or elsewhere, UNHCR spokesperson Dana Sleiman responded, "I am afraid we cannot share such estimates." Reliable data from outside sources is scarce. Fear of self-reporting, and the fact that many LGBT people may have also been fleeing their families means that any surveys almost certainly underestimate the true number of gay and trans Syrian refugees.
Still, even conservative estimates put the number staggeringly high. "Taking into account that queers [populate] the Syrian society similarly to elsewhere, we can safely say that there are couple of hundred thousand Syrian queer refugees currently in Lebanon at least," says Ahmad Saleh of Helem, a Beirut-based LGBT advocacy organization. A Lebanese law makes being gay illegal, and although it is often ignored, activists are actively seeking to repeal it.
Despite the anti-gay law, Zein thought that once he got to Beirut – a progressive city relative to the region – things would get better. But in the eight months he's been here he's faced an array of challenges: Prejudice, assault, precarious living situations, and an inability to work because of his refugee status. The Lebanese government currently requires Syrians who register as refugees with the UN to sign a pledge not to work, which the UN finds counterproductive. "In our view, [the requirement] is problematic because refugees need any sort of income they can get," says Sleiman.
The United Nations refugee agency attempts to resettle vulnerable people in host countries through a direct referral process that varies depending on the country, and can take years to complete. Most countries also require an in-person interview, a step that can add months to an already lengthy process. Perhaps most frustratingly, the timetable for resettlement varies wildly from country to country. While their cases wind through international diplomatic channels, Zein – who officially applied for asylum last December – and thousands of refugees like him are stuck in what can feel like a permanent state of limbo.
Zein initially went to Khaldeh, a town south of Beirut that hosts enough Syrians to have prompted a visit from the UN high commissioner on refugees last June. Like in the rest of the country, living conditions in Khaldeh vary from tents, to abandoned buildings, to rented apartments.
Once there, he began sleeping in a room that housed eight other refugees, four of whom would work during the day and the other four at night. The room cost $50 a month. "The four who work during the day and sleep at night sexually assaulted me," he says. "Basically they surrounded me, someone put his hand on my shoulders, someone was trying to take off my clothes, and I said: what are you doing, you're from my country? Not only from my country, but literally where I'm from. And they say, no, come on, let's have a little fun." Zein was able to escape in the middle of the night before the situation got worse.
It isn't easy for queer refugees simply to relocate, even if they're under direct threat. They are regularly targeted for harassment or sexual exploitation from employers or landlords, and since many don't have family support their options are especially limited. "There are horrific stories," says Lama Fakih, senior crisis advisor at Amnesty International. "If you outwardly appear to be gay, it can be much more difficult to find work."
Transgender people and men who read as effeminate can be particularly vulnerable. "If their outward appearance indicates they may be LGBT, there is discrimination from landlords, exploitation, sometimes there is abuse," says Nadim Houry, deputy director of the Middle East & North Africa division at Human Rights Watch. Houry added that the Lebanese police regularly stop refugees at checkpoints to demand registration papers. "We've documented abuse [of LGBT refugees] at those checkpoints, often based on appearance."
Distrust of the police means that those who do suffer harassment or assault don't have any options for recourse. "If they are MSM [men who have sex with men] and they are harassed, they don't even think of going to the police," says Nadia Badran of SIDC, a Beirut-based organization that provides services to drug users, sex workers, and people with HIV.
After the assault, Zein phoned a Syrian friend – also gay – who had resettled in Holland. The friend told him to go to a Beirut neighborhood called Cola, where he could find a dorm room for $150 a month. One day Zein came back to his room to find five Lebanese boys waiting for him. "They start harassing me about, why are you speaking that way, straighten up, straighten your speech, whatever, you're not normal. That type of thing," he says. "One of them slapped me, and I felt terrible."
He called his friend in Holland again, who connected him with an activist who works with marginalized refugees and other vulnerable groups. She was finally able to offer some relief. "I [met] him the night right after the Cola incident and I remember how bad his situation was due to the constant threats following him wherever he went," says Farah, the activist who helped Zein, who also corroborated other details of his story. She asked me not to use her last name or the organizations she's involved in since she worked with him in a personal capacity.
Now Zein lives in another Beirut neighborhood with a friend he met through Farah, but he's worried about money. There's no available work beyond the sex trade, which he doesn't want to enter. When he goes to the NGO that gives him a small monthly stipend he feels like he's begging. "It's an unbearable situation," he says.
Zein's partner remains in Syria; they met during military service in 2009. "When we met, we got each other," he says. "We thought the same way." The plan was for both of them to escape to Beirut, but the journey would be too dangerous for his partner to make now. They haven't seen each other since the war started, but when asked if they still talk, Zein holds up his phone. "Every day."
John Knefel is an independent journalist based in New York City. He covers national security and civil liberties for a variety of media outlets, and is the co-host of the daily podcast Radio Dispatch.