Prince did it all. He wrote, he produced, he engineered, he performed, and he inspired. Over his lifetime, Prince produced 39 studio albums, 18 Top 10 hits, and crossed over into almost every genre of modern music. According to a statement from his publicist, Prince died Thursday at his residence, Paisley Park, in Chanhassen, Minn. He was only 57 years old.
Prince is deeply loved by fans and critics alike. Not only could he write songs that echoed in the ears and minds of young Americans, he could change the way they saw the world. He changed his name to a symbol. He was androgynous. He was ruthless about where his music would be played. Prince was the voice of a generation.
But what did music critics write about this category-defying force of nature when he debuted on the airwaves in 1979? What did they expect would come of his career? What did Prince say he wanted from his work? Here are some of the earliest mentions of Prince I could dig up in a LexisNexis search.

The Los Angeles Times, November 1979
Prince wasn't an immediate sensation, but he was close. As a child, he played in a band with his cousins in Minneapolis. He studied music so carefully that by his late teens, he had already produced and thrown out several unsuccessful demo tapes. It wasn't until 1978, when Prince was 19 years old, that he released his first album, For You. The album didn't make much of a splash. In fact, I couldn't find a single digitized review of Prince's For You.
G/O Media may get a commission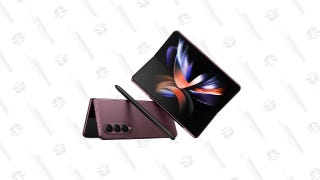 Save Up to $300
Galaxy Z Fold4
It was his second album, the self-titled Prince, that got critics and listeners alike to pay attention. Released October 19, 1979, Prince would eventually go platinum. Its biggest hits, "Why You Wanna Treat Me So Bad?" and "I Wanna Be Your Lover," both climbed into the Top 40.
Less than a month after this album's debut, Don Snowden went to see Prince play at the Roxy, and wrote about it for The Los Angeles Times (emphasis mine):

Prince, 19, is something of a wunderkind who produced, arranged, and composed all the material and played all the instruments on his two Warner Bros. albums. …Prince obviously is a talented new arrival, but he needs to reconcile those two musical instincts [black pop mainstream and hard rock flash] if he is to maximize his potential as a live performer.
And that certainly was true, in the beginning. Listening back to Prince now, it is amazing that a 19-year-old produced this whole album from scratch, but he does occasionally falter, as any young savant might. Yet even as Prince was finding his footing, critics already knew they were watching someone extraordinary.
Melody Maker, December 1979
Even with an ad in Billboard and a new deal with Warner Bros., Prince struggled to find review placement. Billboard did not, at least in its archived issues, review Prince or name it as a recommended album.
The next critic to discuss Prince was John Wall in the December issue of Melody Maker. He wrote:

[Prince]'s more than competent on every instrument he uses, rarely indulgent, always informed… Prince's self-confidence and assertion are the major attractions of this album. Though he's no doubt surrounded by lackeys who continually express wonder at his talent, he's had the good sense to keep the reigns tight.
Keeping the "reigns tight" is an astute and prescient observation, since that is one of the aspects of Prince's personality that would ultimately make him into such a superstar. Most recently, this was evident in Prince's absolute refusal to put his songs onto streaming platforms such as Spotify and YouTube. He always maintained artistic control.
The Sun Reporter, December 1979
Something about Prince that reporters have always seemed to love was that he was, in some ways, a throwback to older artists. He was responsible for every aspect of his own songs, and every critic given the chance mentioned it. Here's what The Sun Reporter had to say:

The album credits on Prince's second LP for Warner Bros. Records, "Prince," tell the whole story: produced, arranged, composed and performed by Prince, it says. As the heir apparent to the title of music's boy wizard, Prince's accomplishments are all the more impressive considering that he is not yet twenty years old.

With two stunning albums and a smash single under his belt, Prince is already a proven commodity; an artist with limitless creative drive and a musical imagination that knows no bounds.
New York Amsterdam News, May 1980
By May of 1980, Prince had already achieved a legendary quality. In this piece written by Michael Wells for the New York Amsterdam News, Prince is immediately compared to the Greek myth of Pegasus. Prince, Wells went on to write, was "musically, lyrically, and physically a poet, a songwriter, whose weapon and charm is his singing."

I can sum up the totality of Prince in two words, musical genius. …Prince's talent is so diverse, to display it and act like a male peacock spreading his colorful plumage, Prince must write tunes in a variety of musical genres.
The New York Times, March 1981
Though many more articles about Prince were published through the rest of 1980, a true sign of arrival for any pop star is to be referenced in the New York Times. The first mention of Prince in the paper was written by Stephen Holden, who went to see him play at the Ritz. He noted that "four months ago, when Prince played the same club, it was half-empty."
When Prince's star rose, it took off like a comet. The genre-bending that two years ago had caused him problems was now eagerly embraced. And his image was stronger than ever. Here's how Holden described him:

Wearing black bikini briefs, fringed high-heel boots and black thigh-high stockings, he is sexual license incarnate. But Prince is such a charismatic performer that his stylized salaciousness doesn't offend. With his sassy grace and precocious musicality, he is heir to the defiant rock-and-roll tradition of Elvis Presley, Mick Jagger and Jimi Hendrix.
If anyone was ever "sexual license incarnate," it was Prince.
Prince is a star, now and forever. But what's amazing is that, even in his earliest reviews, no critic doubted that he'd become one of the most influential voices pop music had ever seen. He was just that good.
First Reviews is a series that finds and evaluates early critiques of now-popular and well-respected artists.
Kelsey McKinney is a culture staff writer for Fusion.