In December, in the wake of police brutality incidents in Ferguson, Missouri, and Staten Island, New York, President Obama tapped Charles Ramsey, head of the Philadelphia Police Department, to lead his Task Force on 21st Century Policing.
The panel, which submitted the final version of its interim report Friday, detailed how police forces across the country can improve community relations.
But Ramsey, who is black, still can't get minorities to join his own.
"In the current environment we're in, policing is not all that positive," he told a City Council budget hearing on public safety earlier this month. "Not a day goes by you don't see something negative. That has an impact on young people."
Philadelphia, the city, has been majority-minority for years: It is now 42 percent African American, 13 percent Hispanic, and 36 percent white, according to Philly.com.
But right now, the force is 57 percent white, 33 percent black and 8 percent Hispanic.
G/O Media may get a commission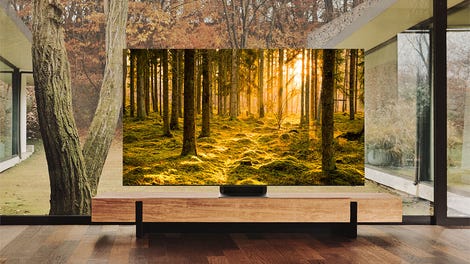 Up to 40% off
Samsung Smart TVs
Ramsey told the council that efforts to step up recruitment at historically black colleges, such as expanding geographic eligibility areas and changing hiring requirements like lowering the minimum age of entry, have proven largely fruitless, he said.
Today, he said, African Americans make up an even smaller percentage of new hires than in years past, and the force overall is down 213 people from its budgeted strength.
"It's not like people are being left hanging."
Philadelphia City Council president Darrell Clarke agreed with Ramsey's assessment about the perception of law enforcement.
In speaking with young African Americans with college degrees, he said, it became clear to him that few would want to become a police officer "given the realities or the perception of people as it relates to the police force versus minorities."
Nearly three-quarters of all police officers are white, while the U.S. population is about 63% white, USA Today reported in January.
In March, a Philadelphia district attorney cleared a police officer of wrongdoing after he shot and killed Brandon Tate-Brown, a 26-year-old black man, in December. Brown was pulled over early in the morning because he was driving with just his daytime running lights, according to Philly.com. After allegedly spotting a handgun, two officers ordered Tate-Brown out of his car. The officers maintain he resisted arrest and were forced to shoot him in the back of the head. The department already cleared both and has refused to release their names.
Fusion reached out to several schools in the area to ask what the reaction had been among students to the recruiting drive. All either declined to comment or did not return requests for comment.
Civil rights activist Connie Rice, who also served on Obama's task force thanks to her work in reforming parts of the Los Angeles Police Department, said that simply from a management perspective, it was essential to have a diverse force.
"That's your biggest recruitment tool: current minority officers," she said.  "You need a lot of areas of expertise, a lot of different lifestyles, a lot of people with different life experiences," she said.
Rob covers business, economics and the environment for Fusion. He previously worked at Business Insider. He grew up in Chicago.