A new profile of top White House aide Stephen Miller explores the limits of just how much trolling a human can do. It also reveals, yet again, that Stephen Miller is a garbage person.
The Atlantic's McKay Coppins wrote a 7,000-word feature about Miller on Monday. His main thesis is that you never really know when Trump's speechwriter and anti-immigration policy chief is trolling you or not. Reading the profile, it becomes clear that this is because Miller is so awful.

Here are some of the worst parts about Miller as revealed in the profile:
Miller likes getting a rise out of people in "a very sociopathic way," especially women:
This question, of how seriously to take Miller, carried over into his interactions with women—like when he approached a woman on campus who he knew disliked his politics and, apropos of nothing, said, "You and I would make beautiful babies together." Women who knew him told me they saw such remarks as escalations in his endless quest to provoke. One recalled that she was "typically disgusted" by his creepy comments, but didn't feel "violated." Another said, "He liked getting a rise out of people in a very sociopathic way."
Also, this:
At Santa Monica High, Miller constantly found ways to rile his classmates. He loudly complained about the Spanish-language announcements that came over the PA system, and once jumped into the homestretch of a girls' track race, evidently to prove male athletic superiority.
G/O Media may get a commission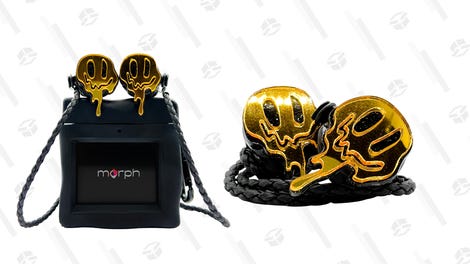 morph audio
Morph Earphones
He never stops thinking about trolling people:
His objective wasn't to upset anyone, he said, but "to challenge people to reevaluate their own assumptions"—and sometimes doing so required an in-your-face approach. Perhaps sensing that I found this unconvincing, he added a caveat that seemed closer to candor: "I mean, at some level you have to be interesting."
Miller moved into a fancy building filled with the elites he supposedly hates:
For a man who has long seemed most comfortable surrounded by people who hate him, there must have been a certain appeal to CityCenterDC, where he bought a $1 million two-bedroom in 2014 (paid for, property records indicate, with the help of his parents). Not only did the sparkly glass complex in downtown Washington feature retailers like Gucci and Hermès and stylish restaurants like Momofuku, but it was also home to such establishment luminaries as Attorney General Eric Holder and Democratic Senator Claire McCaskill.
Miller thinks CNN's Jake Tapper owes him an apology:
Earlier this year, CNN host Jake Tapper abruptly ended a segment when Miller kept refusing to answer his questions and generally behaved like himself. "I think I've wasted enough of my viewers' time," Tapper correctly said.
Miller told The Atlantic he'd gladly accept an apology.
When I asked Miller about the appearance, he cast his eyes downward in a show of contrition. "You know, I've thought about it for a long time," he said. "And I've decided that … if he ever offered it, I'd be willing to accept Jake Tapper's apology."
We have Charlton Heston to thank for his "development":
We've known the 32-year-old was raised by "well-off Jewish Democrats" in liberal Santa Monica, CA, and was a product of relatively diverse public schools. (At the end of middle school, Miller allegedly told a Latino friend—who was close enough to get an invitation to his bar mitzvah—that he could no longer "be your friend anymore because you are Latino.")
The "conservative education" of Miller apparently all started thanks to a subscription to Guns & Ammo.

While flipping through the magazine one day, he came across a column written by Charlton Heston, the movie star turned gun-rights activist. It was, he recalled, "the first conservative writing I'd ever read."
Guns & Ammo led Miller to these incredible American writers:
When I asked him which books had shaped his politics, he rattled off a procession of titles by screed artists and talk-radio personalities, including David Horowitz—the author of such works as Hating Whitey and Other Progressive Causes—and Larry Elder, who wrote The Ten Things You Can't Say in America. What these books lacked in substance, they made up for in visceral appeal. "When I read Rush Limbaugh's The Way Things Ought to Be, it was like a page-turning thriller to me," Miller recalled, fondly. "Every page was like some new revelation."
Read the full profile here, if you dare.