This weekend, the College Board—maker of the ever-changing, possibly dangerous and maybe worthless college entrance exam SAT—threw an accidental curveball at students by offering conflicting instructions on how much time to take to complete a section of the exam.
Exam proctors were instructed to give students only 20 minutes to complete a section, but written instructions told students they were allowed 25 minutes to finish it up. The College Board's explanation of the error sounds like a math problem in itself:

The time allotted for a specific section, either section 8 or 9 depending on the edition, was incorrect in the student test books and correct in the script and manual provided to Test Center Supervisors. The student test books contained "25 minutes" while the manual and script contained the correct time limit of "20 minutes."
The College Board added that, "as soon as ETS became aware of the error during the administration of the test, they worked to provide accurate guidance to supervisors and administrators." But, according to the Washington Post, it was easy for administrators to get through to the testing service in a timely manner.
Now, the College Board is figuring out how to handle the error. As those of us who took the SAT may recall, there is a very real time-crunch nerve factor to the exam, and those extra five minutes make a huge difference.
G/O Media may get a commission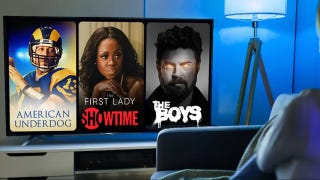 UNDER $1
99¢ Prime Video Channels
Meanwhile, professional SAT preppers are on top of it:
As WaPo points out, parents are discussing the mistake on message boards like College Confidential. Some think their children should be graded on a curve, and many agree that it would be unfair to ask their children to take it again. Until the SAT gods decide how to handle the error, desperate SAT students have entered the pleading phase of the college admissions process:
https://twitter.com/alisonamarr/status/607960700460408832
https://twitter.com/NoTwitrShay/status/607986958862852096
Don't worry, teens, there are no standardized tests in the real world.
UPDATE: Your prayers have been answered, Saturday test-takers. The College Board announced today that it won't throw out the test — just the offending section(s). From the College Board:

After a comprehensive review and statistical analysis, the College Board and ETS have determined that the affected sections will not be scored and we will still be able to provide reliable scores for all students who took the SAT on June 6. We expect to deliver scores within the usual timeframe.
So don't even worry about it.
Danielle Wiener-Bronner is a news reporter.