Aziz Ansari's new widely-praised Netflix show, Master of None, has been lauded for dedicating long arcs to questions of race and identity.
The second episode, "Parents," is especially poignant for American children of immigrant parents. We see Ansari's father (played by his actual father) recalling his journey to the U.S.—his triumphant graduation from medical school in India, his casually racist reception by American doctors, and he pride and joy he felt when he bought Aziz his first computer. In the present day, Aziz is seen grumbling about his dad's request for help programming a new iPad ("I'm not your personal computer guy!") and brushing him off to go hang with a friend. It's a story-line that, for many, rings true.
The episode was, apparently, also extremely real for Ansari himself, who wrote about it on Facebook and Instagram today.
"My dad took off most of his vacation time for the year to act in Master of None," he wrote, adding "So I'm really relieved this all worked out." Ansari went on to share a heartwarming (and slightly heartbreaking) anecdote about how working on the show strengthened his relationship with his father:

Tonight after we did Colbert together he said: "This is all fun and I liked acting in the show, but I really just did it so I could spend more time with you." I almost instantly collapsed into tears at the thought of how much this person cares about me and took care of me and gave me everything to give me the amazing life I have. I felt like a total piece of garbage for all the times I haven't visited my parents and told them I wanted to stay in New York cause I'd get bored in SC. I'm an incredibly lucky person and many of you are as well. Not to beat a dead horse here and sorry if this is cheesy or too sentimental but if your parents are good to you too, just go do something nice for them. I bet they care and love you more than you realize.
G/O Media may get a commission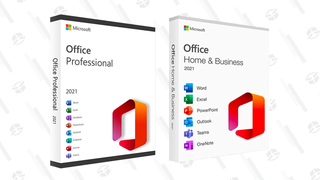 89% off
Microsoft Office Professional 2021 Lifetime License
Ansari added that "Parents," inspired an immense response among his audience—and in his own life:

I've been overwhelmed by the response to the Parents episode of our show. What's strange is doing that episode and working with my parents has increased the quality of my relationship to my parents IN MY REAL LIFE. In reality, I haven't always had the best, most open relationship with my parents because we are weirdly closed off emotionally sometimes. But we are getting better. And if you have something like that with your family - I urge you to work at it and get better because these are special people in your life and I get terrified when my dad tells me about friends of his, people close to his age, that are having serious health issues, etc. Enjoy and love these people while you can.

Judging by the shares and likes on his posts, this note also resonates with a lot of us.
Danielle Wiener-Bronner is a news reporter.