This piece contains major spoilers.

This past Sunday, I dragged myself and my partner to go see the kind of movie that I usually can't stand: a romantic teen drama. While I have always avoided the stalwarts of the angsty saccharine genre like The Fault in Our Stars, Paper Towns, and even Twilight, I opted to go see Everything, Everything because as a teen drama that stars a young black woman, is directed by a black woman, and is based on a book by a black woman, it felt important.
After seeing the movie, I'm still convinced that this movie is groundbreaking. Unfortunately, it comes at the expense of other communities: disabled people and survivors of abuse.
The story is about 18-year-old Maddy, a young woman who is completely confined to her home because she suffers from Severe Combined Immune Deficiency (SCID). Because her immune system is very weak, even the smallest infection could prove fatal. Maddy is resigned to being trapped forever in her home until cute, moody Olly moves in next door. Their romance blossoms over text message, cleverly portrayed as surrealistic in-person conversations. Eventually Olly visits Maddy in her home, unbeknownst to her overprotective mother (Maddy's father and older brother died in a car accident when she was a baby).
After her mother finds out and freaks out, Maddy and Olly run off to Hawaii to see the ocean (even though she lives in Southern California and the ocean is like right there) and test the limits of her SCID in a very Instagrammable island getaway vacation that is all apparently charged to a magically limitless credit card Maddy applied for over the internet.
After falling dangerously ill in Hawaii, Maddy breaks things off with Olly because their love just isn't meant to be—he eventually moves with his mother and sister to New York to escape his alcoholic, abusive father. Then, in a stunning twist, Maddy discovers that she never actually had SCID; her mother was lying to her the whole time to cope with the loss of her husband and son. After essentially ignoring 18 years of what amounts to abusive Munchausen syndrome by proxy, Maddy goes to see Olly where they run through a sidewalk in New York. The end.
G/O Media may get a commission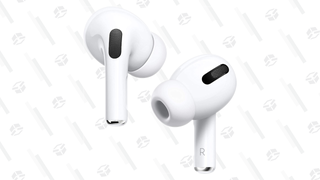 28% Off
Apple AirPods Pro Wireless Earbuds
It's the perfect drama—Maddy, in utterly helpless circumstances, decides that not only is love worth risking her life over, but once she does, she realizes there was hardly any risk at all. Her mother's betrayal neatly wraps up her illness, rendering it just another plot device.

Everything, Everything has the whimsy and disregard for logic and credit scores that makes for teen drama gold. But what's more important is that it extends that carefree and unabashed desire for cheesy romance to black girls, who are pretty much never afforded that space in mainstream movies. Girls of color, particularly black girls, don't get to be the girl next door. They don't get to have the cheesy, heart-wrenching, kissing-under-fireworks teen love that needs no justification. The fact that race isn't discussed in the film at all is also a refreshingly normal take on modern interracial relationships. It's just cute boy giving cute girl all the affection she deserves despite dramatically impossible circumstances, and that's it!
What makes the movie even more groundbreaking is that director Stella Meghie is the only black woman with a studio-backed, wide release film in 2017, and one of 16 women total with such a film this year. In an industry where a staggering 80% of female directors only get to direct one film, Meghie is an anomaly—Everything, Everything is her second film in two years, and her first studio film. On top of that, Everything, Everything had a successful opening weekend at the box office, making the $12 million it was projected to make, proving that it's the kind of story worth investing in.

But aside from the film's huge strides in representation, it does suffer from some plot shortfalls, which ends up misrepresenting other people in the process—namely, those who actually have SCID, those with disabilities that render them homebound, and children who have been abused. 

Earlier this month, the Immune Deficiency Foundation released a statement on the film, criticizing it for perpetuating the "antiquated notion" of those with SCID being completely confined to a sterile environment. "Most persons with SCID who have received treatment lead healthy and productive lives with no need to shield themselves from the world," the statement reads. And while some members of the disability community have related with the idea of missing out on certain interactions and developing relationships over text due to their medical conditions, what made Everything, Everything offensive was the big plot twist.
"For anybody that has ever sought a SCID diagnosis," the IDF statement reads, "this will be particularly upsetting, as being accused of hypochondriac behavior is a common rebuff, and the film's reinforcement of this response is worrisome and dangerous."
It's dehumanizing to render a serious condition to a plot device, not only because it's inaccurate but because it directly feeds into the stigma that those who are homebound.
On top of that, the idea that Maddy risks her life speaks less to teen empowerment and the power of love and more to just how marginal Hollywood seems to think the lives of disabled people are. That the thesis of Everything, Everything is "If you can't leave the house because you'll die, then what's the point of living?" is an incredibly cruel message to send to people who are homebound or have adjacent conditions. It foists an imagined responsibility on them, when there is no choice.
As Jennifer J. Johnson writes in her review of the book Everything, Everything on Disability in Kidlit:

Characters with disabilities get little enough representation, and when a disability that could conceivably work against the love and sex life of a disabled character happens, it feels rather insulting to not show any work towards those issues that real disabled people might face, instead hand-waving away all their issues for the happy ending. Especially a happy ending that comes at the expense of scapegoating another disability.
Sadly enough, we've been through this before. This time last year, the film Me Before You (also an MGM production and referenced in the Everything, Everything trailer) was the subject of much ire due to a similar situation. In the movie, the main character Will decides to end his own life, unable to bear being paralyzed after a motorcycle accident—sending the tired and terrible message that a disabled life is not worth living. Hollywood clearly has no issue with mining disability for drama, but it certainly has a penchant for callous treatment of disabled lives.
Which is why Everything, Everything is just as heartbreaking a disability film as it is a groundbreaking black film. The film not only humanizes black girls, but at first, it also humanizes those with immune deficiencies (even though it is exaggerated), and gives us what appears to be a rare nuanced and three-dimensional look at a teenage girl who is at the intersection of race and disability. Maddy is smart and quirky and awkward and imaginative and beautiful before she's anything else, but the fact that she's not actually sick is a troubling betrayal of the very disability that the story hinges itself on.
On top of that, neither the book nor the film give much attention to the prolonged child abuse. As warm and understanding as Pauline (Anika Noni Rose), Maddy's mother and physician, appears, Munchausen syndrome by proxy, a very rare and complicated mental health problem, is also a very serious form of neglect, which is a crime. Instead of using it as a platform to interrogate illness as abuse, it's simply used as yet another catalyst for drama with no regard for the actual fallout. While in the book it appears that Pauline seeks therapy, in the film Pauline explains her decision to "protect" her daughter, hugs Maddy (which is uncomfortable both for her and the viewer), and expresses that she hopes Maddy still loves her. That's it.
It's one thing to not make an interracial relationship a Thing—not discussing it is a form of normalization. But to not make a Thing out of child abuse, to move right along without addressing it for what it is, is a disservice to abuse victims, and trivializes a very thorny mental health issue.
I still do think that Everything, Everything is significant, but the way it pits several marginalized groups of people (that overlap) against each other makes it clear that there just aren't enough nuanced, thoughtful films about young black women, those with disabilities, or victims of abuse.