Police on Monday morning identified Stephen Paddock, 64, of Mesquite, NV, as the man who opened fire on an outdoor country music concert Sunday night in Las Vegas, killing at least 58 and leaving more than 500 others injured.

Police now believe he died of a self-inflicted gunshot wound before SWAT officers used explosives to enter his hotel room on the 32nd floor of the Mandalay Bay Resort and Casino on the Las Vegas Strip, where he had hammered out the window to begin firing on the 22,000-person crowd.

Here's everything we know about Paddock so far.
Who was Stephen Paddock?
Paddock was retired and living in an upscale community in Mesquite, a community of about 18,000 that lies 80 miles northeast of Las Vegas. The community boasts an 18-hole golf course and doesn't allow child residents, USA Today reported.
Paddock lived in the house with Marilou Danley, 62, who was first sought as a person of interest in the massacre but was later cleared of any involvement.
G/O Media may get a commission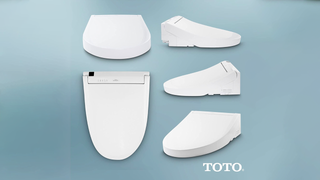 44% off
Toto Washlet Electronic Bidet Toilet Seat
He worked for a predecessor of the defense corporation Lockheed Martin from 1985 to 1988, the company confirmed in a statement. The aerospace giant did not release any additional details.
Authorities haven't found any records linking Paddock to the military, but the FAA confirmed he had a private pilot's license, and public records show he owned two planes.
He did not have a criminal record in Las Vegas, according to local media, but once sued The Cosmopolitan of Las Vegas, a resort on the Strip, after he claimed he slipped and fell as a result of a "dangerous condition" in the casino. Both sides agreed to drop the suit, leading to its dismissal in October 2014.
"What's unique for us is the gunman, the shooter, and the person with him, we in the Mesquite Police Department have not had any contact with these people in the past. We haven't had any traffic stops, any law enforcement contact, no arrests or nothing," local police spokesperson Quinn Averett said told CNN.
Averett also said after an initial search of the home that it was a "nice, clean" space with "nothing out of the ordinary." He initially said additional weapons and ammunition were found but didn't offer specifics.
Why'd he do it?
Authorities are still piecing together Paddock's motive for carrying out the shooting.
"We have to establish what his motivation was first," Clark County Sheriff Joseph Lombardo said in a press conference. "There's motivating factors associated with terrorism other than a distraught person just intending to cause mass casualties. Before we label with that, it'll be a matter of process."
Lombardo also said Paddock is believed to have been the only gunman.
"Right now, we believe it's a sole actor, a lone-wolf-type actor," he said.
Suspect's father was a convicted bank robber once on FBI's Most Wanted List
Paddock's father, Patrick Benjamin Paddock, who was also known as "Chromedone" and "Old Baldy," was absent for most of his childhood after he was convicted of robbing a Phoenix bank in 1960, according to Eric Paddock, the suspect's younger brother.
He later escaped from federal prison and spent years on the lam, eventually landing on the FBI's Most Wanted List, which described him in a 1969 wanted poster this way: "diagnosed as psychopathic, has carried firearms in commission of bank robberies" and "reportedly has suicidal tendencies and should be considered armed and very dangerous."
Paddock's father apparently managed to evade authorities for nearly a decade, after which he was arrested in Oregon, where he was running a bingo parlor, according to New York.
Speaking with CBS News, Eric Paddock described his brother as "just a guy" without any religious or political inclinations. Eric told the Daily Mail he had "absolutely no indication he could do something like this."
Paddock liked gambling, going to concerts at hotels in Vegas, and eating burritos, his brother said, also calling him "not an avid gun guy at all" with no military background.
"Where the hell did he get automatic weapons?" Eric Paddock asked.
He identified Danley as his brother's girlfriend.
Eric Paddock said he didn't speak to his brother often, but last heard from him when Stephen texted to ask how their mother was doing after losing power for several days in Hurricane Irma.
"It's like an asteroid just fell on top of our family," he told the Las Vegas Review-Journal.
ISIS claimed ties—but there's no evidence for that
People started (understandably) freaking out when the Islamic State took credit for the attack on Twitter, calling the suspect out of the terrorist group's "soldiers," without offering any evidence to back up the claim.
But Aaron Rouse, the head of the FBI's Las Vegas office, told reporters that investigators haven't found any evidence that Paddock was linked to international terror groups.
For more news from Splinter, follow us on Facebook.