Just days after Drake denounced the "relationship" between 25-year-old rapper Tyga and 17-year-old model/TV personality Kylie Jenner on bonus track "6PM in New York" from his surprise album, If You're Reading This It's Too Late, Amber Rose threw shade at the "couple" on a radio show. Tyga is a rapper, an adult, a father, and, apparently, boyfriend* to clean teen Kylie Jenner.
Essentially, Amber called Kylie a "baby" who "needs to go to bed at 7 o'clock." Amber suggested Tyga should be ashamed of himself for abandoning his relationship with Blac Chyna, the mother of his children. Additionally: Amber's really not feeling the whole "dating a minor" aspect of Tyga's new relationship with Kylie.
Khloe Kardashian, the middle Kardashian sister, did not take kindly to the remarks made about the baby of the relationship family and clapped back on her own Twitter account:
G/O Media may get a commission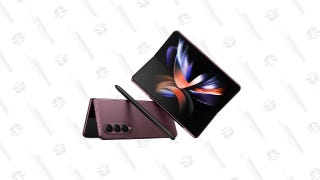 Save Up to $300
Galaxy Z Fold4
…which may not have been a smart move, as Amber Rose was quick to bring up Kim Kardashian's sex tape past.
Amber Rose is Kanye West's famed ex, so there's obviously bad blood there:
Amber then managed to get the name of a track recorded by French Montana (who is Khloe's ex-beau) trending at #1 in the coldest move so far in the kerfuffle:
That's when folks on Twitter lost it:
https://twitter.com/Its_Craver/status/567434648137908224
And just when we thought the fight was over, Khloe decided to come back for more:
Which encouraged Amber Rose to unload ALL AMMO:
The last image (NSFW) is of Khloe actively "liking" Amber Rose's nude pictures on Instagram.
Amber had a few more words for Khloe before she retired for the evening:
(In reference to the rumor that OJ Simpson is actually Khloe's dad rather than Robert Kardashian)
*As of this morning, Tyga is appearing on Power105 to discuss his "friendship" with Kylie Jenner. According to Power105 host Angela Yee's Instagram, Tyga claims "he is just friends with Kylie and in black culture the mentality is that they have to be smashing while in white culture you can just be friends."
Yikes. That's your defense? So here's a question: Why would a grown man want to befriend a 17 year old girl?
Somehow we doubt this blood-feud is gonna fizzle anytime soon.
Akilah Hughes is a comedian, YouTuber, and staff writer and producer for Fusion's culture section. You can almost always find her waxing poetic about memes and using too many emojis. 🍕