Since his case was featured in the hit Netflix documentary Making a Murderer, Wisconsin man Steven Avery has gained national attention and been held up as a symbol of a broken criminal justice system.
Now, his ex-fiancée Jodi Stachowski has come forward with allegations that Avery violently abused her during their relationship.
"He's like Dr. Jekyll and Mr. Hyde," she says in an interview with HLN. "Behind closed doors, he's a monster."
Avery spent 17 years in prison for a rape charge that was overturned by DNA evidence. He sued the police department that investigated his case for $36 million, and just after several police officials were deposed in the lawsuit, he was accused of murdering another young woman, Teresa Halbach. Avery was convicted of that murder and is now serving a life sentence without the possibility of parole.
In the documentary, Stachowski comes across as a supportive fiancee, visiting Steven during his imprisonment and encouraging his family to stay strong.
In reality, Avery started hitting her "after the first week" of their relationship, which went on for about two years, she tells HLN. "He'd beat me all the time, punch me, throw me against the wall. I tried to leave and he smashed the windshield out of my car so I couldn't leave him," she said, adding that he repeatedly threatened to kill her.
G/O Media may get a commission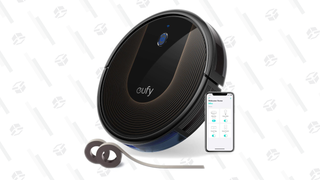 48% Off
Eufy BoostIQ RoboVac
"I ate two boxes of rat poison just so I could go the hospital… and get away from him," she said.
Stachowski says Avery told her he'd hurt her if she said anything bad about him in the documentary.
"It was all an act," she said about her performance in Making a Murderer. "He told me how to act. He said 'smile, be happy.' I didn't know what to do, I didn't want to get hurt."
She claims she told filmmakers Moira Demos and Laura Ricciardi not to include footage with her in their documentary, but they put it in anyway. Stachowski says she hasn't watched the series because "it's all lies."
Since the documentary has come out, Avery's case has gained renewed attention. Over 400,000 people signed a petition to President Obama calling for Avery to be pardoned. (Obama can't actually pardon state inmates; Wisconsin governor Scott Walker has said he won't pardon Avery.) This week, he filed a new appeal.
Stachowski said she believes Avery is guilty of Halbach's murder. "He told me once, all bitches owe him, because of the one that sent him to prison the first time," she says. "We all owed him. And he could do whatever he wanted."
She also reveals that she was going to testify against Avery for the prosecution, but that the prosecutors never ended up calling her.
"He's not innocent," she said.
Casey Tolan is a National News Reporter for Fusion based in New York City.