One of these is not like the other: Diego Forlan, Luis Suarez, and Fernando Bruccoleri.
The first two are world famous Uruguayan soccer stars. The third, Bruccoleri, is a little known 25-year-old guy who makes YouTube videos for fun. He's also the third-most followed Twitter user in Uruguay, with 1.2 million followers—a considerable feat in a country of only 3.4 million people and is best known for making Homer Simpson ignorantly laugh because of its pronunciation.
After becoming involved with Richard Branson's Virgin Media Pioneers in the U.K., Bruccoleri set out to build his influence on social media with the goal of breaking into the U.S. entertainment industry. Though he doesn't consider himself a journalist,he has made waves in Uruguay's media world by interviewing high-profile individuals such as electronic dance music DJs Martin Garrix and David Guetta, as well as entrepreneurs such as Branson (his idol) and Kim Dotcom.
So how did the aspiring social media celebrity/entertainer reach the influential Twitter ranks of soccer gods Forlan and Suarez (and without biting anyone?). Here are Bruccoleri's secrets to social media fame:

Know what you're talking about, and who your audience is
Think of the people who follow you. Or, more accurately, who you want to follow you. What would they be interested in hearing about? More importantly, Bruccoleri says, what subjects are you confidently and insightfully opine about?
G/O Media may get a commission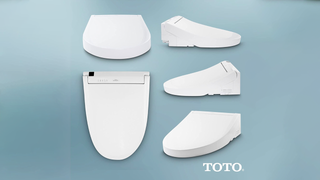 44% off
Toto Washlet Electronic Bidet Toilet Seat
"I talk about what I know, what I'm comfortable in giving my opinion on. It may seem obvious, but it really helps when you know what you're talking about."

Don't make it your life
Even for those of us without 1.4 million followers, it's easy to get sucked into the social media vacuum, constantly checking your networks and looking for new content to share.
That's a mistake, Bruccoleri says.
"I work from my computer and don't really use a smartphone. Being plugged in makes you feel more disconnected with life. The stress of constantly thinking of what I can upload or post doesn't get me anywhere, so I try to avoid that stress."

Think globally
Bruccoleri comes from a small town in a small country, so attracting 1.4 million followers meant going beyond his immediate friends, family and neighbors. In fact, most of Bruccoleri's followers are beyond Uruguay's borders, he says.
"The internet makes it possible to break barriers and reach different parts of the world. Consider what people in other cities and countries are talking about, and join the conversation."

Seek out followers — don't just wait for them to follow
Don't wait for followers to come to you — go out and get 'em, tiger. Bruccoleri says he started linking up with people who he respected on social media, which eventually led him to meet Richard Branson. Ultimately, though, it's not all about your Twitter numbers:
"Don't think of it as an end goal to get followers. Be yourself and if you're doing a good job the growth will come."

Keep it fresh
While Bruccoleri is careful not to become too obsessed with constantly updating his Twitter feed, he says it's important to keep the content fresh.
"The people who end up doing badly are the ones who reach a goal and then keep doing the same thing. You need to start expanding your audience with new ideas and new content."
Alexandra DiPalma is a producer for Fusion Lightworks, Fusion's In-house Branded Content Agency.
Fidel Martinez is an editor at Fusion.net. He's also a Texas native and a lifelong El Tri fan.