An overnight explosion at a FedEx facility outside San Antonio could be linked to four package bombs that have rattled Austin this month and caused two fatalities, the FBI said.

Michelle Lee, a spokeswoman with the FBI in San Antonio, confirmed to CNN that the most recent explosion happened inside a FedEx facility in Schertz, TX, a San Antonio suburb about an hour's drive from Austin. The explosion occurred shortly after midnight, but few other details were immediately available, including the contents of the package or its point of origin.
A law enforcement official told the New York Times that the package was addressed to Austin.
One FedEx employee suffered minor injuries when a "single package exploded" at the ground sorting facility, the company said in a statement, adding, "We are not providing any additional specific information about this package at this time."
Although the investigation is in its early stages, Lee told the Associated Press that "it would be silly for us not to admit that we suspect it's related" to the blasts in Austin. Those explosions, which began March 2, involved three devices hidden in packages delivered to homes in residential, predominantly black neighborhoods in the city. In the latest incident on Sunday, two men, both white, were injured after triggering a device on the side of the road. The device was rigged with tripwire, a move that Austin's interim police chief, Brian Manley, said showed "a higher level of sophistication, a higher level of skill."

G/O Media may get a commission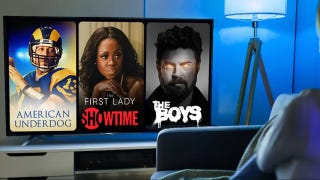 UNDER $1
99¢ Prime Video Channels
Donald Trump has been briefed on the situation, the White House told CNN. On Monday, three members of the Congressional Black Caucus called on federal authorities to classify the explosions as acts of terror and to determine whether they are "ideologically or racially motivated."