Facebook's Menlo Park headquarters, designed by starchitect Frank Gehry, is one of the most technologically advanced buildings in the world.
But this morning, when they logged on to Facebook, some employees' news feeds loaded excruciatingly slowly at internet speeds they probably haven't seen since the days of AOL dial-up.
It's all part of a new program the social network is calling "2G Tuesdays." Under the program, Facebook employees can volunteer to use a much slower connection than normal for an hour every Tuesday morning. The point is to put these employees in the shoes of Facebook users in developing countries like India, where many people only have 2G mobile access and spotty connectivity.
"We see a lot of people connecting to Facebook in emerging markets, where 2G connections are still very common," said Tom Alison, a director of engineering at Facebook. "It's a very different experience that a lot of people in places like Silicon Valley aren't accustomed to."
Alison says that, starting today, Facebook employees who log onto the mobile Facebook app on Tuesdays will be given a prompt at the top of their news feed. If they opt in by pressing a button, the app adjusts their connection speed to a much slower one, comparable to the speed you might actually get on a 2G network.
G/O Media may get a commission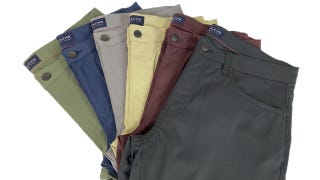 JACHS NY Fall Stretch Tech Pants
Alison said that Facebook's emerging markets team had been making "field trips" to countries with weak mobile infrastructure, and had developed the idea to give Facebook's U.S. employees a taste of what their overseas users might experience.
"Simulating a true 2G connection is not that easy for most people to do," Alison said.
Facebook has been making a big push into emerging markets in recent years, and India (which has 1.2 billion potential Facebook users) is its most sought-after prize. The company hosted Indian prime minister Narendra Modi at its campus last month, and Mark Zuckerberg is currently on a visit to India to host a town hall Q&A, according to his Facebook feed, with a stop at the Taj Mahal.
Facebook's attempt to make inroads in India has been controversial. As part of its Internet.org efforts, the social network has been offering Indian users a stripped-down mobile software package that includes a text-only version of Facebook, along with other mobile news apps and services. To use the services, though, users are required to have a mobile plan from Reliance Communications, a mobile provider in the country. That, combined with Internet.org's walled-garden approach to app development, has rubbed some Indian users the wrong way, according to the New York Times:

Facebook says the primary goal is to show people what the Internet is all about. But many Indians want more and complain that, contrary to its altruistic claims, the project is simply a way to get them onto Facebook and to sign up for paid plans from Reliance.
So Facebook's 2G Tuesdays aren't just a novelty experiment. They're an attempt to bridge the "empathy gap," and get engineers thinking about how customers in a hugely important market will use Facebook's products. If Facebook can design apps that work perfectly on shaky 2G connections, it has a better chance of overcoming political and cultural resistance and getting those 1.2 billion people onto Facebook. In other words: it's worth slowing down the internet in Menlo Park, if the result is speeding up the company's growth.