In a report published early Friday, ProPublica revealed a legal loophole that allows advertisers on Facebook's business and marketing platform to "include" or "exclude" users who see ads based on "ethnic affinity" (which sounds a hell of a lot like race):
As unveiled by reporters Terry Parris Jr. and Julia Angwin, Facebook has a mechanism called "detailed targeting," which allows advertisers to tailor ads and show them to specific demographics, like Spanish-speaking men under 35 in the south or college-aged women who are on mobile devices.
You can find your own "ethnic affinity" in the Ads preferences section of Facebook under "Lifestyle and Culture." Here's mine:
African American (US). Correct! Unsettling, however, is that I've never reported my race to Facebook. And while I can remove my "ethnic affinity," I don't have the option to change it. Several white Facebook users, meanwhile, have reported that they don't have an "ethnic affinity" in their settings at all.
When reached for comment, Facebook directed us to a post from Christian Martinez, its head of Multicultural, in response to the ProPublica piece. Munoz writes:

We want Facebook to be a platform that's respectful and empowering, and that enables people to see ads and other content that respect the diversity of our global community — especially the portions of that community that have been historically underrepresented. To do this, we can't pretend that diversity doesn't exist, or ask diverse communities to resign themselves to seeing only ads whose very existence calls them out as different. Instead, we need to enable everyone to see the content that's most relevant to them — and work to encourage everyone to embrace, not suppress, the diversity that makes our community great.
G/O Media may get a commission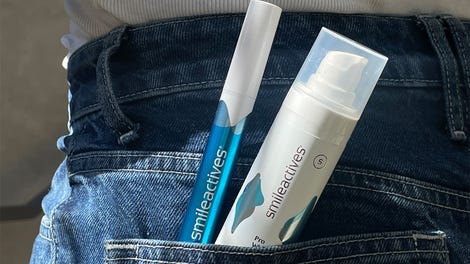 58% off
Whitening Powerhouse Pen & Gel Duo
Facebook did not acknowledge why some white users have reported having no ethnic affinity in their settings.
So what exactly is "ethnic affinity?" ProPublica spoke to Steve Satterfield, the privacy and public policy manager at Facebook, who said that "Facebook assigns members an 'Ethnic Affinity' based on pages and posts they have liked or engaged with on Facebook."
Rather than actually asking users for their racial identity, which Facebook has never explicitly done, they compile user data and make a "best guess." There are few specifics as to how this is done, but hypothetically, Facebook could be drawing on your liking of certain musical acts, support of certain political ideals, sharing of posts from certain sources, all combined with the location and language data the social network does collect.
Were Facebook to allow users to report their race, they'd find themselves on uneven legal ground. The Fair Housing Act of 1968 prohibits discrimination "based on race, color, religion, sex, handicap, familial status, or national origin." But, in a marketing tutorial covered by Ars Technica, Facebook explicitly emphasizes how the term "ethnic affinity" makes this different:

The word "affinity" can generally be defined as a relationship like a marriage, as a natural liking, and as a similarity of characteristics. We are using the term "Multicultural Affinity" to describe the quality of people who are interested in and likely to respond well to multicultural content. What we are referring to in these affinity groups is not their genetic makeup, but their affinity to the cultures they are interested in. The Facebook multicultural targeting solution is based on affinity, not ethnicity. This provides advertisers with an opportunity to serve highly relevant ad content to affinity-based audiences.
The reason this doesn't qualify as discriminatory targeting—even when it's used for housing—is where the data is sourced from. It's sourced not from actual demographic data (race, age, location), but from pages you've liked and engaged with. Facebook retains no information on your race and can always double down on the fact that, because its algorithms are "based on affinity, not ethnicity," it's entirely plausible for a black person, based on their likes and interests, to be selected as Asian or white, for example.
That's also likely why you can't change your affinity. Were Facebook to give users the option to self-report their actual race, they'd be liable for using it for exclusionary purposes. The fact that they don't actually have racial information is, in a way, their best defense against accusations of racism.
Satterfield told ProPublica advertisers "might run one campaign in English that excludes the Hispanic affinity group to see how well the campaign performs against running that ad campaign in Spanish." He says that this practice is a common in the industry.
"We take a strong stand against advertisers misusing our platform: Our policies prohibit using our targeting options to discriminate, and they require compliance with the law," Satterfield said. "We take prompt enforcement action when we determine that ads violate our policies."
Fusion wants to hear from you! Were you assigned an "ethnic affinity" on Facebook? If so, was it correct? Please email sidney.fussell-nf@fusion.net and tell us more.
This piece has been updated.