Forty miles south of Baltimore, protesters gathered in Washington, D.C. to voice anger at the police and stand in solidarity for Freddie Gray, who sustained fatal injuries while in custody.
Stretching more than a city block, the protesters began in Chinatown, then made their way to the White House without incident.
Sherita Sweeney, 30, of Maryland, said she came out Wednesday night because, "too many lives are being lost."
Demonstrations were held in cities across the country on Wednesday, with more than 60 people arrested in New York City.
G/O Media may get a commission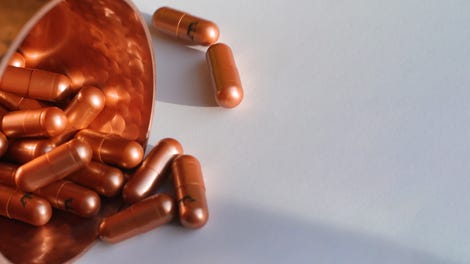 health
The Lyma Supplement
A state of emergency was issued in Baltimore after violence, looting, and vandalism broke out on Monday night. Since then, people have been calling for peace and justice, while helping to clean up the city.
"I understand the anger. I understand the pain. Are we going about it the right way? Not necessarily, but when you're backed into a corner, like and animal, you're going to fight your way out," said Sweeney, referring to the Baltimore rioting.
Bridzette Lane, the mother of Raphael Briscoe, who was shot and killed by a police officer in 2011 when he was 18 years old, joined the rally. In February, a D.C. jury cleared the Metropolitan Police Department officers, according to NBC Washington.
"It hasn't gotten as much publicity as others, but I'm in D.C. fighting for justice," she told the crowd.
"There is a lot of ingrained racism in the system that people aren't aware of or won't admit to," said Calvin Walker, 23, an American University Law Student, who was attending his first D.C. protest.
Along the way, demonstrators chanted "all night, all day, we're going to fight for Freddie Gray" and "we young, we strong, we are marching all night long" as they peacefully made their way across the city.
Cheers rang out when the police were called "racists" and "terrorists." Meanwhile, officers stopped traffic for the march as protesters traversed the streets.
There were also signs that read "D.C. Cops Out of Baltimore." D.C. Mayor Muriel E. Bowser (D) was facing criticism for offering to send dozens of Washington Metropolitian police officers to help assist in Baltimore, according to The Washington Post.
Many people in the crowd expressed frustration with policing in the United States, and called for changes to the system.
"What's happening right now to people of color is abhorrent," said Lauren Schreiber, 46.
Sean Blackmon, 27, an organizer of the protest who walked at the front of the march, said he wanted to be a part of trying to change the "volatile" situation that exists for "black and brown communities."
"I'm getting sick and tired of it and I'm glad D.C. is taking part in the protests," said Josh Rouse, 24.
Not everyone painted all police with the same brush.
"If this was in Baltimore it wouldn't be as calm," said Elizabeth Cohen, 37.
Cohen said she believed police in the nation's capital were generally "respectful" and experienced when it comes to dealing with mass protest.
Baltimore native Claire Weitzner, 18, said she was heartbroken to see her city torn apart.
"We need to be out here trying to figure out what's happening. I know all police aren't guilty of violence, but we need to reform the system," said Weitzner, a student at George Washington University.
As the main protest began to wind down, a splinter group of about 50 people, including Maronel Stewart, 22, stayed out.
"It's tiring to have to deal with this over and over again. I don't want to see the fight die out just because we're getting tired of the same thing over and over again,' said Maronel Stewart, 22, a graduate of George Washington University.
They walked north from the White House on 16th Street to Dupont Circle, where they sat down in the road and stopped traffic.
"I feel like that could be me," said Nascimento of Gray.
Geneva Sands is a Washington, D.C.-based producer/editor focused on national affairs and politics. Egg creams, Raleigh and pie are three of her favorite things.