If you know what writer Louis Virtel looks like, there are decent odds it's because you saw his much-loved appearance on Jeopardy! Specifically, you likely saw this clip from May 8 last year, where he answers a Daily Double and celebrates with an audible snap of his fingers.
Now, the official website of the House Republican Conference has used a GIF of the clip to advertise their social media efforts, and Virtel is not happy.
The House Republicans used an edited GIF of Virtel's snap to announce their plans to offer "an exclusive behind-the-scenes look at President Obama's final State of the Union address" via Snapchat. They're referring to it as "Snap of the Union," a phrase superimposed onto the GIF of Virtel. The announcement is standard-issue political social media pablum; there's a hashtag and GIFS meant to appeal to the youth. It's a "How do you do, fellow kids?" moment, but no more so than most political messaging aimed at the same demographic.
Only one problem: Virtel is avowedly not a fan. After he was alerted to the House Republican's use of the clip by another user he called it "charming garbage." Since then he's tweeted repeatedly at and/or about the GOP, telling them not to use his image
G/O Media may get a commission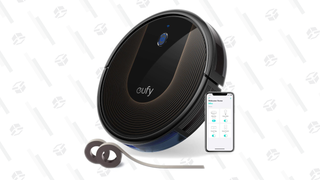 48% Off
Eufy BoostIQ RoboVac
Virtel has previously written that his one regret about Jeopardy! is that he "didn't just say 'I'm gay' on air"
As of this writing, the GOP hasn't taken the GIF down.
Ethan Chiel is a reporter for Fusion, writing mostly about the internet and technology. You can (and should) email him at ethan.chiel@fusion.net