Funerals, a ritual as old as humanity itself, are an opportunity for the bereaved to acknowledge that the lives of their loved ones had meaning. But that basic act of remembrance is denied to the survivors of the hundreds of undocumented immigrants who die crossing the deserts of Arizona or the ranchlands of Texas.
Immigrants who die of dehydration, exposure to the elements, or injury often do so alone, and loved ones never know their fate. Now, a small group of forensic anthropologists is trying to change that.
Baylor University's Dr. Lori Baker and the Texas Observer have teamed up to launch a crowdfunding campaign in hopes of building an online database to help family members identify those who died while trying to make it to the United States.
It's a grim project, but one that would help bring closure to dozens—if not hundreds—of families in Latin America that are waiting to hear word from missing loved ones.
G/O Media may get a commission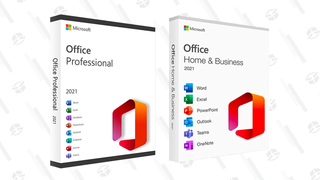 89% off
Microsoft Office Professional 2021 Lifetime License
The database will collect and publish hundreds of photographs of personal effects that were retrieved in the wilderness alongside the bodies of fallen immigrants. The hopes is that a family member will see the photos and be able to make a positive identification. The method has worked before. Baker's team has already managed to identify Elmer Barahona Iraheta, a 22-year-old Salvadoran immigrant who lost his life in Brooks County, thanks to a brown plaid shirt he was wearing.
The goal of the campaign, called "I have a name/Yo tengo nombre," is to raise $20,000 by Saturday, Nov. 7. The money will go towards building the database and maintenance of the tool. Baker's team would then reach out to foreign embassies, human rights organizations and local newspapers in Central America to help get the word out about the online tool.
"This is something that's needed and what we can do is not just acknowledge the issue, but use journalistic best practices to build something that's optimized for identification and recovery," said Texas Observer editor Forrest Wilder, who's a friend of mine. The Observer's involvement comes at the heels of "Beyond the Border," a 2014 four-part, Emmy-winning multimedia investigative series done in partnership with the Guardian US that focused on what's happening in Brooks County.
"I Have A Name/Yo Tengo Nombre" is intended to fill a gap created by lack of government funding. Baker's work thus far has been paid for by Baylor, which provides office space and equipment. She also receives donations from the Reuniting Family Project, a nonprofit she started in 2003.
It's a tireless job. As a forensic anthropologist, Dr. Baker's life's work has been to identify the remains of dead immigrants found near the United States-Mexican border. Since 2013, she and her colleagues at Texas State University have focused on 169 cases in particular, the bulk of which came from Brooks County, Texas, which for most people is a hot, 70-mile drive to the border on U.S. 281.
But undocumented immigrants making the hike through the surrounding brush have to swing wide of the Border Patrol checkpoint along the highway. And that detour has turned Brooks County into a massive, unmarked graveyard. To avoid detection at the checkpoint, coyotes force immigrants to walk 40 miles in the wilds of surrounding ranchlands, where temperatures regularly tip triple digits. Many never make it back to the road.
Brooks County law enforcement find an average of 50-60 bodies of immigrants each year. Legally, local authorities are required to collect DNA and send a sample to the National Missing and Unidentified Persons System (NaMus). But doing so can cost up to $2,000 per body, and Brooks County, the 16th poorest in the country, can't afford the tests. That's where Dr. Baker's team comes in.
In 2013, Baker led a team of forensic experts and student volunteers to Sacred Heart Cemetery, where unidentified bodies found in Brooks Country have been buried for the past 16 years.
The team has since uncovered the remains of 120 bodies, many of which were buried haphazardly in deplorable conditions. People were horrified by the findings, but perhaps no one more so than Dr. Baker.
"It's not something you should see in the United States," she told Fusion's Jim Avila in a report that aired last year. "Some of the bodies they've exhumed were buried in trash bags or milk crates. There's no dignity in someone being buried in trash bags."
The outrage prompted a perfunctory investigation by the Texas Rangers that yielded a four-and-a-half page report that found no legal wrongdoing. But last July, the Texas Observer published an in-depth report by John Carlos Frey that argued otherwise. Frey discovered that several laws were broken, including one that specifically stipulates that all human remains in a county cemetery be buried in an impenetrable container.
"Nobody cares about dead immigrants," Dr. Baker told the Texas Observer. "They're invisible when they're alive, and they're even more invisible when they're dead."
Even if the campaign helps to identify the 169 remains that Baker's team has gathered, it'll only a small portion of those who are dying in the desert. Last year alone there were 307 people who died trying to cross the border, U.S. Border Patrol reported. An additional 916 bodies were recovered between 2012 and 2013, according to official data.
And those are just the ones who were found.
Fidel Martinez is an editor at Fusion.net. He's also a Texas native and a lifelong El Tri fan.