By now we're pretty familiar with the various ways people come up with to defend their faves who have been accused of sexual assault, whether it's focusing on what the victims were wearing, why they waited so long to speak out, or God sending us morally bankrupt people in order to "Carry Out His Purposes." And now, the director of the upcoming Fantastic Beasts and Where to Find Them sequel has given yet another infuriating excuse as to why he re-hired Johnny Depp, who was accused of domestic violence by his ex-wife, Amber Heard. See, it's a numbers thing.
In an interview with Entertainment Weekly, director David Yates explained:
Honestly, there's an issue at the moment where there's a lot of people being accused of things, they're being accused by multiple victims, and it's compelling and frightening. With Johnny, it seems to me there was one person who took a pop at him and claimed something. I can only tell you about the man I see every day: He's full of decency and kindness, and that's all I see. Whatever accusation was out there doesn't tally with the kind of human being I've been working with.
The idea that Depp is supposed to be an angel because hey, look at how many victims Harvey Weinstein has, only serves to diminish the validity of abuse against women. Saying that Amber Heard "took a pop at" him is as disgusting a turn of phrase as it is an attack on her—the actress had multiple witnesses and medical records to corroborate the history of abuse by Depp. But Yates also points to Depp's other exes who pointed to their own experience with him to defend him.
"By testament, some of the women in [Depp's] life have said the same thing — 'that's not the human being we know,'" Yates said. "It's very different [than cases] where there are multiple accusers over many years that need to be examined and we need to reflect on our industry that allows that to roll on year in and year out. Johnny isn't in that category in any shape or form. So to me, it doesn't bear any more analysis. It's a dead issue."
G/O Media may get a commission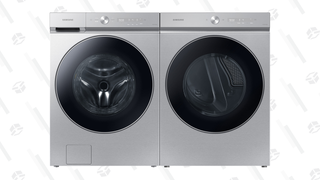 Get $500 back in credit
Last Chance: Samsung Bespoke AI Washer and Dryer Preorder
Again, using the several victims of Weinstein to devalue the accounts of other victims is an exhausting and manipulative translation for something along the lines of, "No one cares about Johnny anymore because his transgressions have been eclipsed by a host of other Hollywood monsters (because there is a qualitative and quantitative hierarchy of violence against women), and it's not financially worth it to recast him." Could have just stuck to, "It's a dead issue," dropped the witch hunt rhetoric, and saved us all some time.