"The Breakfast Club," the flagship morning show now on New York station Power 105.1, continued its series of fire bookings this morning with maybe the ultimate hip-hop-world interviewee: Kanye West. Before most folks had even properly started their morning commutes, Ye had already set social media on fire via the hashtag #YeezusReturns.
Yes, this interview dropped awe-inducing nuggets of bravado – "I'm the most influential person in footwear" – between super-eyebrow-raising stuff. Yes, basically Kanye approved of a (supposedly hypothetical) romantic and transactional relationship between 24-year-old rapper Tyga and 17-year-old Kylie Jenner, saying, "[Tyga] got in early." (That part may or may not have been edited, as some have claimed afterwards, but whatever.)
https://instagram.com/p/zVAWyyCHk0/
And yes, Yeezus also claimed that Beyoncé keeps pictures of Kim Kardashian on her wall for inspiration. In a twisted way, it's almost sweet how hard Kanye stans for his wife.
Also – could the world even handle a joint Kanye/Drake album, as Ye intimated might be coming?
But all of this internet-fire kindling is just the latest in what is one of Kanye's most-discussed weeks ever! Gramys, Schmammys – all that did was set him up for one intense (if trifling) media run. It feels like it's been forever, but all of these things happened in the past seven days. Let's recap, shall we?
G/O Media may get a commission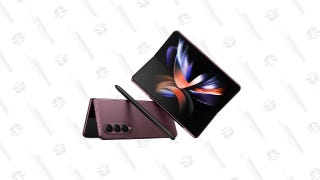 Save Up to $300
Galaxy Z Fold4
Friday, February 20: Obviously, today is the day forever to be known to Kanye trackers as the day of the Breakfast Club interview, which you can listen to/watch in full here. He also followed that with a nice, multi-tweet statement of the kind he does best, aimed at the fashion-industry insiders' club he's been fighting for acceptance.
Then he basically invited everyone to drinks, ensuring the several-years-old Spotted Pig still stays hot!
Thursday, February 19: Kanye was touched by high/low prepster fashion god Ralph Lauren. Look how geeked he looked.
Wednesday, February 18: New York Fashion Week supposedly instilled a no-children rule because of baby North. Oops!
Tuesday, February 17: This is when he had dinner with Taylor Swift! The best part? As we found out today via the Breakfast Club, apparently the restaurant's background music was that pesky Beck Album of the Year.
Monday, February 16: Kanye showed up, alongside fellow guest star John Legend, on the new Big Sean track, "One Man Can Change the World."
At the same time, his ex Amber Rose went in on his current sister-in-law, Khloe Kardashian, on Twitter, in one of the most epic draggings of recent social media history.
Sunday, February 15: Even Kanye can have sort of a sense of humor about himself, it turns out. Despite emotionally heavy musical performances on "SNL 40," he mocked himself just a bit in a cameo in a "Wayne's World" skit.
Saturday, February 14: The Yeezy sneakers for Adidas dropped, instantly selling out (and creating an insane resale market, which Kanye claimed on the Breakfast Club that he never intended to do.)
But that's not all! North West also made a bit of baby history here by crying for the second time during New York Fashion Week. The first time, as we all remember, came during Kanye's own Adidas presentation; but apparently, Alexander Wang makes North a little grumpy, too.
And right now? Kanye is in London at a memorial for late fashion design lecturer Professor Louise Wilson. What a week.
Arielle Castillo is Fusion's culture editor, reporting on arts, music, culture, and subcultures from the streets on up. She's also a connoisseur of weird Florida, weightlifting, and cats.