Fayrouz Saad, introducing herself to the voters of Michigan's 11th Congressional district, knows that some of them may stumble over her name.

Her first official campaign video opens with a collage of Starbucks cups showing the many creative ways baristas have misspelled "Fayrouz." She closes with this promise: "You may not be able to spell my name, but you'll get to know my face."
Saad, 34, seems close to the ideal candidate for the Democratic Party in 2018: She's young, charismatic, and educated, having earned degrees at both the University of Michigan and Harvard's John F. Kennedy School of Government. She's worked as a public servant at the local, state and national levels. She's the daughter of immigrants. She speaks Arabic and French. She also happens to be Muslim, and, if elected, would be the first Arab-American Muslim in Congress.

Saad thinks that having as many different identities—race, ethnicity, culture, economic status, and religion—as possible represented in Congress is more important than ever. She likes to quote Rep. Keith Ellison, the first Muslim politician of any background to be elected to Congress: "If you're not at the table, you're on the menu."
But as a first-time candidate, it can be hard to know how to bill yourself to voters, especially when considering your own ethnic or religious identity.
G/O Media may get a commission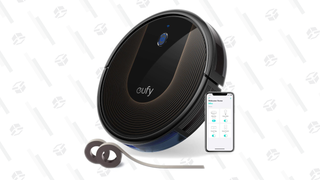 48% Off
Eufy BoostIQ RoboVac
"When you are these things, you're not thinking about, like: 'This is what I am and I need to talk about it,'" she said. "It's ingrained in your identity."
Saad's parents came to the United States from Lebanon more than 40 years ago and settled in Michigan. Her father started a wholesale halal meat business in Detroit's Eastern Market (Saad herself is a vegetarian). She was born and raised in Dearborn, which has been called "the Arab capital of North America," along with her five siblings. Saad first got into politics in high school, helping her sister register voters in Dearborn. She remembers attending to naturalization ceremonies to register immigrants to vote.
"It was a very formative experience to have as a young teenager," she said. "You got to see these people, they just became Americans, they're so excited. And they can't wait to register to vote and vote for the first time. So that really is probably a part of what got me interested in politics."
Saad was just starting her freshman year at the University of Michigan when the Twin Towers fell. Her parents drove the 45 minutes from Dearborn to Ann Arbor to pick her up from school, fearing anti-Muslim backlash.
"Honestly, up until that day, I didn't even know that this was a way in which Arabs or Muslims were viewed," she said. "I had friends of all backgrounds and faiths, and we were all friends. It wasn't even a thing. So I didn't know what to expect when I got back to campus.
But when she did return a few days later, Saad said many of her schoolmates came up to her and gave her a hug.
"There was this sense of community in which they took the time to be like, 'We're in this together, Fayrouz. You have nothing to worry about. We have nothing to worry about. Don't worry. We'll protect one another,'" she said.
In 2004, she worked as a Michigan field organizer for John Kerry's presidential campaign. She then worked in the Michigan state legislature, serving as district director for Dearborn Rep. Gino Polidori. In 2008, she worked for Barack Obama's primary campaign, and after Obama was elected, she went to work in the Department of Homeland Security as a liaison between police and immigrant communities.
At Harvard, Saad wrote a policy memo proposing ways the Detroit mayor's office could better serve the city's immigrant population. Saad met with Mike Duggan, Detroit's mayor and asked him if anyone in the mayor's office was working on immigrant affairs, at which point Duggan asked Saad if she would take on such a job. Saad was named director of the city's newly created Office of Immigrant Affairs—a role that she essentially created herself—where she helped connect immigrants with city resources on business development, housing and school placement.

Last year, Saad worked with the Arab American Political Action Committee, reaching out to Arab-American voters on behalf of the Clinton campaign. After the election, Saad recalled feeling "very frustrated with the narrative and what was suddenly acceptable as an acceptable way to talk about immigrants, people of color, minorities, so on and so forth." She felt diverse voices were sorely underrepresented in the political discourse.
As it turned out, the residents of Michigan's 11th District—which encircles the Detroit metro area to the north and west—were frustrated with their own representation in Congress. In February, when Rep. Dave Trott didn't show up for a town hall, constituents brought in a live chicken to serve in his place. The next month, Trott showed up to a town hall full of booing constituents, furious over Republicans' plan to decimate the Affordable Care Act.

"It was so obvious to me that he was vulnerable, and that people were tired of him, and I had no doubt that in one way or another, he was not going to be our representative in 2019," she said.

She turned out to be correct. Saad announced her candidacy in July. In September, Trott announced he would not seek re-election after his term ended, joining at least three other Republicans in potential swing districts who have decided to retire after 2018. "I have decided that the best course for me is to spend more time with my family and return to the private sector," Trott said in a statement.
"I like to think I scared him away," Saad laughs.
No Republicans have yet stepped up to the plate to replace Trott, but the campaign is still early. Still, Saad has the support of her family and community—groups that are inextricably intertwined for Saad. While some immigrant parents may push their children toward more prestigious careers than politics, Saad said her parents always supported her work, even if they didn't quite understand what her jobs entailed.

"My parents are always like, 'We don't know what she does, but she works for Obama,' or, 'She works for Gino,' or, 'She works for the mayor,'" she said. "But they've always been so supportive of my career path because they see and understand the value of it because they've always been so engaged and aware."
When she first told her family she was thinking about running for Congress, her dad's immediate reaction was, "Yeah, why not?" Her mother makes dinner for Saad and her husband almost every day. Saad started tearing up thinking about the support her family has given her, and, as every woman is constitutionally required to do, immediately apologized for becoming emotional.
In 2016, President Obama hosted his final Iftar dinner at the White House to mark Eid, the end of Ramadan. At the celebration, in the midst of a presidential campaign that marred by open Islamophobia, Obama honored Muslim-Americans, and gave a shoutout to Saad and her parents specifically.
"Let's be clear: Muslim Americans are as patriotic, as integrated, as American as any other members of the American family," Obama said. "And whether your family has been here for generations or you're a new arrival, you're an essential part of the fabric of our country."
In the Trump era, the notion of America as one dysfunctional but ultimately harmonious family can often seem quaint, or even naive. But Saad refuses to become disillusioned. Toward the end of our interview, I asked, somewhat bluntly, why someone like herself would want to run for public office, at a time when so much hate is being directed toward people like her parents. I told her that if I were in her position, I'd run as far away from Washington as possible.
"But imagine we all did that," she said. "Then what would we be left with?"

For more important stories like this, follow us on Facebook.