Iraqi immigrants across Michigan and Tennessee were the target of broad ICE sweeps last week as the agency seeks to process a "backlog" of about 1,400 Iraqi nationals the U.S. has identified for deportation. Dozens of Iraqis are believed to have been detained.

Fusion spoke with Ayed Ayoub, who directs the legal and policy department for the American-Arab Anti-Discrimination Committee (ADC). He confirmed that the group currently knows of 60 Iraqi immigrants who had been arrested in Detroit and at least 40 in Nashville.
"ICE is going to homes, there are allegations of ICE showing up across the street from a church, stopping people the road and questioning people," he said.
The arrests have sparked protests at ICE headquarters in Detroit. One group, Solidarity and Defense, posted video of locals blocking one of the buses believed to be holding the Iraqi detainees.
G/O Media may get a commission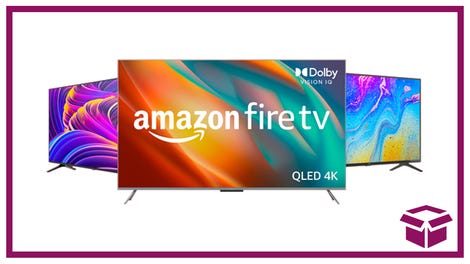 Ooh. stunning.
New Amazon Fire TVs
Drost Kokoye, a member of the American Muslim Advisory Council (AMAC) in Nashville, told Fusion the raids are still ongoing.
"These are people who don't have any sort of warrant...wearing police vests and all sort of police gear," Kokoye said about the ICE officers, "[people] feel intimidated and feel like they have to open the door."
While the sweep may have started last week targeting specific individuals, Koyoke said that immigration officials now appear to be harassing the community at large.
"Now they've started to knock on the doors of everyone in the neighborhood and ask them who lives there and what's their immigration status," she said. "They're going to workplaces and asking for work hours," adding that one resident reported being pulled over and surrounded by six ICE officers on the road.
As the Washington Post wrote, the ICE sweep is the result of a deal the Trump administration struck earlier this year with Iraq. In exchange for being left off Trump's travel ban, the country "agreed to start accepting deportees who do not have passports or travel documents."

A spokesperson for ICE, responding to the Post's report, had this to say about the Michigan and Tennessee raids:
As part of ICE's efforts to process the backlog of these individuals, the agency recently arrested a number of Iraqi nationals, all of whom had criminal convictions for crimes including homicide, rape, aggravated assault, kidnapping, burglary, drug trafficking, robbery, sex assault, weapons violations and other offenses.
I asked Bryan Cox, an ICE spokesperson out of Atlanta, about the claims that officers were harassing the Kurdish community in Nashville.
"ICE only conducts targeted immigration enforcement," Cox said, denying "any claim that [ICE] would just indiscriminately knock on doors."
Cox also said that officers were acting on judicial orders, meaning that criminal arrest warrants were not necessary to arrest their Iraqi targets. ICE officials maintain that everyone they've arrested in this operation has had a criminal conviction.
However, apart from saying the agency is processing the "backlog" of Iraqi nationals, ICE didn't address the sudden urgency in targeting individuals who haven't committed a crime in over 20 years.
While ICE hasn't yet confirmed who's been arrested, Ayoub, from the American-Arab Anti-Discrimination Committee, said that the raids have swept up Iraqi immigrants who had paid their debt to society decades ago and have since moved on with their lives, starting families and sending their American children to college.

"Some may have committed crimes in their youth," Ayoub said, "and now it's coming back to haunt them."
One of those men is Usama Hamama, who appears in the Post story. He served a year in prison after brandishing a gun at someone during a road rage incident—a sentence he completed in 1994. Since then, he's married and raised a daughter who attends the University of Michigan. The primary breadwinner, not only does the family stand to lose their health insurance, but his daughter will likely be pulled out of school.
The raids in Detroit also appear to fly in the face of Trump's repeated pledges to protect Christians in the Middle East—creating a situation that may endanger more Christian Iraqis.
In Nashville, the raids have primarily targeted the Kurdish community, many of whom came to the U.S. in the '90s as refugees during the first Iraq war. The ICE sweep is hitting the predominantly Muslim community during the holy month of Ramadan.
"Usually [Ramadan] is a time when the mosque is booming and there's a sense of community" in Nashville, which is home to the largest Kurdish population in the country, Koyoke said. "If you go there now, for one of the night prayers during Ramadan, it's a quarter of the turnout you would have seen before last week."
And the fear extends well beyond the alleged ICE list of Iraqis with criminal records, she added.
"You don't even feel safe to break bread and break fast with our community because you're afraid that ICE is going to knock on your door," she said.
Ayoub emphasized that, "regardless if they're Christian or Muslim," the raids will still endanger the lives of hundreds of Iraqis.
"If that person is going to be put in harm's way, they should not be sent back to Iraq," he said.
Additional reporting by Jorge Rivas
This post has been updated to reflect remarks from ICE.