Bitcoin, an imaginary kind of computer money made up by a mystery man, is a valuable financial asset. It is being traded daily by educated professionals, based upon rational financial calculations, so you may rest easy knowing that its value is safe, just, please, DON'T READ THE NEWS, EVER.
One of the hottest cryptocurrency investments of 2017 comes from a software startup that doesn't plan to sell any software and describes what it is selling—something called a digital token—as having "no purpose."

The company, block.one, has raised about $700 million and counting... A purchase agreement that investors must sign states the tokens "do not have any rights, uses, purpose, attributes, functionalities or features."
This is fine lol. You can be certain that we are carefully analyzing the market potential of each and every company in this dynamic arena...
Fintech plus cryptocurrency equals about $7 billion.

That's how much the value of LongFin Corp. surged to after the microcap's stock rocketed by as much as 2,600 percent since debuting Wednesday. Most of the gains came since Friday, when the company issued a press release saying it bought Ziddu.com, "a blockchain-empowered global micro-lending solutions provider" that transacts only in cryptocurrencies.
G/O Media may get a commission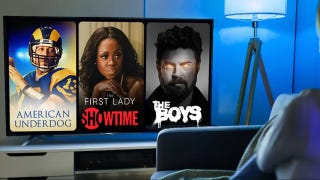 UNDER $1
99¢ Prime Video Channels
Uh, yes, but of course we wouldn't throw $7 billion at some no-name company based on a single press release; there was extensive, complicated research involved, and LongFin CEO Venkat Meenavalli went on CNBC to clear up any misunderstanding...
"LongFin gained what, $4 billion in market cap? Is that justified?," one anchor asked Meenavalli in the interview after the CEO had repeatedly told the journalists that they didn't understand his business and that he is running a legitimate company.

"It's not justified. It's insane," he responded. "This market cap is not justified."

The interview caused the shares to reverse direction, falling 14 percent in post-market trading. The shares dropped 6.9 percent to $67.37 at 9:53 a.m. in New York.
Ok... uh... the system works.
Tech world!