So. Much. Winning. On Friday, a federal judge appointed by former President Ronald Reagan slapped a nationwide injunction on the Justice Department's attempt to withhold federal safety grant money from so–called "sanctuary cities" that refuse to cooperate with immigration authorities.
The injunction lends weight to a lawsuit filed by the city of Chicago and its mayor, Rahm Emanuel, a staunch opponent of the Trump administration's anti–immigrant policies. In his ruling, 80–year–old U.S. District Judge Harry Leinenweber said Chicago's lawsuit against Attorney General Jeff Sessions' Justice Department likely would win, and that Sessions probably usurped limits on his authority when he used federal Edward Byrne Memorial Justice Assistance Grants to punish sanctuary cities like Chicago.

According to the Chicago Tribune, Judge Leinenweber agreed with Emanuel that the City of Broad Shoulders would suffer "irreparable harm" if it complied with the Justice Department's order, which was issued during a hateful and misleading statement that Sessions delivered last July.

At the time, Sessions said, "So-called 'sanctuary' policies make all of us less safe because they intentionally undermine our laws and protect illegal aliens who have committed crimes. These policies also encourage illegal immigration and even human trafficking by perpetuating the lie that in certain cities, illegal aliens can live outside the law."

Among the Justice Department's new demands, cities receiving the grants would be required to permit federal immigration officers to access local jails, and local law enforcement would be required to provide Immigration and Customs Enforcement officials with a 48–hour notice before releasing detained undocumented immigrants sought by ICE.

G/O Media may get a commission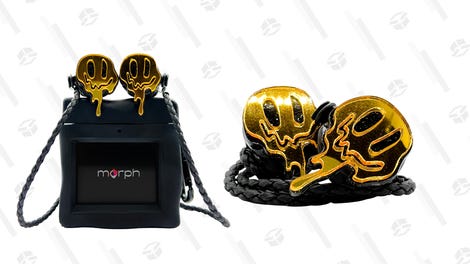 morph audio
Morph Earphones
Speaking about damages the city could face and the need for a nationwide injunction on Sessions' order, Judge Leinenweber stated in his ruling that, "Once such trust is lost, it cannot be repaired through an award of money damages, making it the type of harm that is especially hard to rectify," the Tribune noted.

Emanuel said the ruling is "a clear statement that the Trump administration is wrong," according to the Associated Press.

"It means essential resources for public safety will not come with unlawful strings attached, and the Trump Justice Department cannot continue to coerce us into violating and abandoning our values," Emanuel said.

The injunction came just hours before the Trump administration's immigration crackdown was delivered yet another blow, this time by California lawmakers, who passed a "sanctuary state" bill limiting local law enforcement's ability to coordinate with federal immigration officials. That bill is expected to be signed into law soon by CA Gov. Jerry Brown.