A federal judge has struck down a revised version of Texas' 2011 voter identification law that was found to be in violation of the Voting Rights Act last year.
Texas Governor Greg Abbott signed an amended version of 2011's voter identification bill into law in June; it would have taken effect on Jan. 1. U.S. District Judge Nelva Gonzales Ramos rejected Senate Bill 5 on Wednesday, finding that the revised law remained discriminatory because it didn't expand the list of acceptable IDs.

The new law, which allegedly loosened restrictions implemented by the previous voter identification requirements, allowed registered voters without a photo ID to cast ballots if they presented documents showing their last name and address at polling stations.
According to the Austin American-Statesman, SB 5 also stipulated that voters without a photo ID would have had to sign a "declaration of reasonable impediment" which stated why they could not obtain a photo ID. Voters who were found to be lying about why they could not obtain a photo ID could have been charged with a state felony — a crime which is punishable by up to two years in prison.
G/O Media may get a commission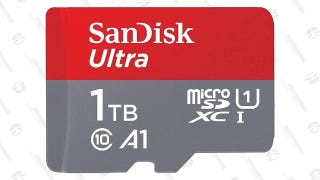 Save $75
SanDisk Ultra 1TB MicroSDXC Card
Ramos, who ruled in April that Texas lawmakers had purposefully discriminated against Latinx and black voters when it wrote the original voter ID law, found that SB 5 failed to correct the state's strict voting rules.

"SB 5 does not meaningfully expand the types of photo IDs that can qualify, even though the Court was clearly critical of Texas having the most restrictive list in the country," Ramos wrote. "Not one of the discriminatory features of (the 2011 law) is fully ameliorated by the terms of SB 5."

Ramos also declared the new law's "declaration of reasonable impediment" a form of voter intimidation. "Requiring a voter to address more issues than necessary under penalty of perjury and enhancing that threat by making the crime a state jail felony appear to be efforts at voter intimidation," she ruled.
Texas Attorney General Ken Paxton described Wednesday's ruling as "outrageous" and said the state plans to appeal Ramos' decision.