Everything about neo–Nazi Brandon Russell's case is messed up.
Russell, 21, a member of the Army National Guard from Tampa, FL, was arrested May 21 in Key Largo during a traffic stop. The reason he was detained is that his roommate, Devon Arthurs, a former neo–Nazi who converted to Islam had just murdered the other two neo–Nazi roommates living in their shared apartment.
Arthurs said he killed the two men because they taunted him over his conversion. All four men allegedly had been members of the same group, "Atomwaffen Division."
The Miami Herald reported that after shooting his two roommates to death, Arthurs went to a smoke shop, where he held several customers hostage and threatened to kill them before surrendering to police. During police questioning, Arthurs reportedly ratted out Russell for threatening to blow up public buildings and kill people.

According to the newspaper, when police searched the four men's apartment after Arthurs was arrested, they found a framed photograph of Oklahoma City bomber Timothy McVeigh in Russell's bedroom, along with white supremacist propaganda, and a copy of Hitler's Mein Kampf.

That wasn't all they found. According to the May 22 Herald report:

FBI and Tampa Police Department officers found a cooler containing a white cake-like substance in Brandon Russell's garage, underneath his apartment, that tested positive for hexamethane triperoxide diamine, which is a precursor to several different types of explosives. He was arrested Sunday on possession of unregistered destructive devices and unlawful storage of explosive charges, and charged federally on Monday.

Also found in the garage were empty 5.56-caliber bullet casings with fuses that agents say could be used as detonators of the HMTD.
G/O Media may get a commission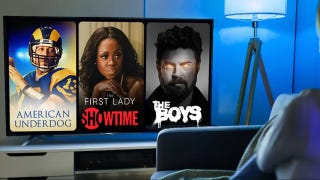 UNDER $1
99¢ Prime Video Channels
While police were searching Russell's apartment, he was out with yet another neo–Nazi friend buying two more guns and 500 rounds of ammunition, according to the Tampa Bay Times.

Yet none of this—not the radiation–emitting explosives in his garage, the admiration for white terrorist Timothy McVeigh, the online terrorist threats, or the adulation of Adolf Hitler—was enough to convince federal Judge Thomas McCoun that Russell poses a threat to the community.

On Friday, McCoun rejected prosecutors' pleas to keep Russell locked up pending trial on explosives charges, instead granting Russell's request for bond.

"I am unable to conclude there is clear and convincing evidence that Defendant represents a threat to any other person," McCoun wrote in his ruling, according to the Times.

The judge has not yet outlined the terms of that bond or the conditions of Russell's release back into the comforts of home, where presumably he'll spend his time awaiting trial by baking cookies and volunteering at homeless shelters.