As the partial government shutdown lurches into its seventh day, 800,000 government employees will not receive their regularly scheduled paychecks for this period, leaving private organizations and government agencies scrambling to help them, according to NBC.

Yesterday, the U.S. Office of Personnel Management, the agency that handles HR for government workers, tweeted out advice to employees who are currently working without pay or who are furloughed.
The tweet linked to sample letters that government workers could use in talking to creditors about why they can't pay what they owe this month.
G/O Media may get a commission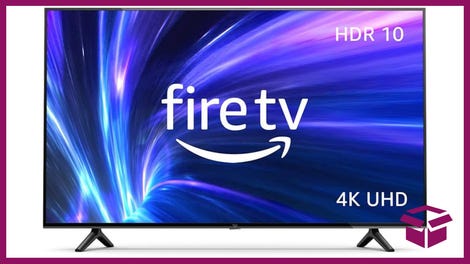 42% Off
Amazon Fire TV 50" 4K Smart TV
"As we discussed, I am a Federal employee who has recently been furloughed due to a lack of funding of my agency," one letter read. "Because of this, my income has been severely cut and I am unable to pay the entire cost of my mortgage, along with my other expenses."
Other sample letters were more surreal (emphasis mine):
As we had agreed in our conversation, I will be able to make regular payments in the amount of $_______. I realize that I will be responsible to pay the remainder of the payments and, when I return to work, I will contact you immediately to work out a plan to take care of the reduced payments. I will keep in touch with you to keep you informed about my income status and I would like to discuss with you the possibility of trading my services to perform maintenance (e.g. painting, carpentry work) in exchange for partial rent payments.

Yes, the office in charge of federal employees is telling them to go barter some physical labor in exchange for not being chucked out on the street.
Congress has already funded 75 percent of the government through next September, so the shutdown—which was triggered by President Donald Trump's demand for $5 billion in funding for the border wall—is partial. The agencies affected include Homeland Security, Transportation, Commerce, Interior, Agriculture, Housing and Urban Development and Justice. Independent agencies like NASA, the FDA, the EPA and the IRS are also heavily impacted.
Those departments and agencies will continue to be staffed by "essential" employees who would work without pay until the shutdown ended. All other "non-essential" employees will be sent home without pay. More than 420,000 employees will be required to work without pay and an additional 380,000 would be sent home, according to a fact sheet compiled by Senate Democrat staffers.

Correctional officers, FBI agents, U.S. Marshals, TSA employees, Border Patrol officers, Coast Guard employees, Forest Service firefighters and Weather Service forecasters are all expected to continue working without pay.
Credit unions that serve government employees are offering loans and other programs to families impacted by the shutdown:
USAA Bank, which serves military members and family, sent messages Thursday to members who it believed were impacted offering low interest personal loans, a spokesman told NBC News. Navy Federal Credit Union has announced a relief program that features a zero-interest loan to affected members.
Action News Jacksonville reported that Vystar Credit Union was also offering a special emergency loan program for current members who are federal employees. 
"Our members deserve peace of mind during a government shutdown, and eligible members can register to get some relief," Tynika Wilson, the Navy Federal Credit Union's senior vice president of debit card and fund services, said in a press release. "Public service is a defining characteristic of our membership, and this is the right thing to do."
Nonprofits, like Coast Guard Mutual Assistance, are also providing aid to workers. CGMA is offering between $300 and $550 of financial support to their junior enlisted members.
"Our military needs to focus on their mission and not have to focus on their financiers," spokeswoman Cari B. Thomas told NBC.
CGMA is asking local businesses and communities to chip in.
"Each payday requires $150 million to pay the entire Coast Guard workforce each pay period. This nonprofit does not have $150 million," Thomas said. "Local communities and local business have to help their local Coast Guardsmen. We're asking landlords to be reasonable in their rent deferment or utilities deferment."