A rainy night lent a cinematic backdrop to Ferguson, Mo., as demonstrators remained on West Florissant Street in defiance of the curfew imposed by Gov. Jay Nixon. By the end of the night, seven people were injured and one had been shot by an unidentified assailant.
Dozens of protesters occupied one end of West Florissant chanting "No Justice! No Curfew!" while hundreds of police in riot gear watched from the other end. A few dozen reporters and bloggers on the sidelines—some sporting gas masks—captured the scene with cameras and smartphones.
The protests have been going on since 18-year-old Michael Brown was shot and killed Aug. 9 by a white Ferguson officer, Darren Wilson. The death heightened racial tensions between the predominantly black community and mostly white Ferguson Police Department, leading to several run-ins between police and protesters and prompting Missouri's governor to put the Highway Patrol in charge of security.
Missouri State Highway Patrol Capt. Ron Johnson told the Associated Press protesters weren't the reason for the escalated police reaction early Sunday morning after the midnight curfew took effect, but a report of people who had broken into a barbecue restaurant and a man who flashed a handgun in the street as armored vehicles approached the crowd of protesters.
G/O Media may get a commission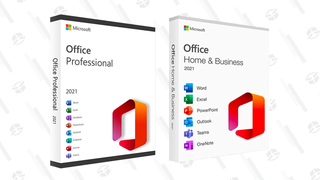 89% off
Microsoft Office Professional 2021 Lifetime License
A plea to desist
Minutes before midnight, State Sen. Jamilah Nasheed urged citizens to go home.
"We need everyone to stay safe and to come back tomorrow and assemble peacefully," she addressed the crowd with a microphone attached to a speaker in the back of her car. "This is about Michael Brown."
But her pleas quickly turned into a confrontation with a small group of angry individuals who responded by shouting, "I am Michael Brown!"
"We don't like police brutality. I assure you we can change the conditions you are going through," she replied. "We don't like the police brutality. We don't like the police giving you tickets while driving while black. But we do want you to be here tomorrow for the cause of Michael Brown. Let's get out of here and let's come back tomorrow."
One of the men took over the Senator's microphone.
"Creeping … like cowards"
"We [are] being peaceful. It can't be no more peaceful than this," said the man, who did not identify himself. "Nobody is breaking the law. They [are] just protesting. If they leave them alone, let them loose. Let them protest. They'll go home. But you [referring to the police] creeping on the side of the buildings like cowards. Ain't nobody breaking the law. They're just protesting."
But for the past two nights, the protests have taken dark turns. The celebratory atmosphere on the same street the night before ended with some looting a liquor store.
"These guys are frustrated and angry," Senator Nasheed told Fusion. "The economic and political oppression of what they have gone through is a direct correlation of what you see here tonight. They feel that if they get justice for Michael Brown, they get justice for themselves."
At about 12:20 a.m., the police issued a warning to the crowd via megaphone. A disembodied mechanical voice, emanating from police vehicles, announced, "You must disperse the area immediately. You are in violation of a state imposed curfew. You are subject to arrest."
As officers put on gas masks, a chant from the distant crowd emerged: "We have the right to assemble peacefully."
A handful of protesters got on their knees in the middle of street with their hands up in the air. Surrounded by photographers, one woman pounded her chest and shouted "What are we arrested for?"
Use of teargas denied, then confirmed
Minutes later, the first of dozens of tear gas canisters was fired at the crowd. Highway Patrol Spokesman Lt. John Hotz initially said police only used smoke, but later told The Associated Press they also used tear gas canisters.
"Obviously, we're trying to give them every opportunity to comply with the curfew," Hotz said.
One cannister was lobbed back towards the police. The crowd had retreated and then dispersed shortly after.
Police in armored vehicles advanced towards the crowd. Police in tactical gear searched the behind the buildings flanking the street.
Gunshots rang out, although it was not clear from which direction. The AP reported a man was shot and critically wounded in the area, but not by police; authorities were searching for the shooter early this morning. Someone also shot at a police car, officials said.