A new candidate just threw his wide-brimmed hat into the ring for the Arizona governor's race.
Meet Juanito, an undocumented immigrant running for higher office in a state where fears over immigration routinely seep into political campaigns.
There's a catch, though: he's not real.
The "Vote Juanito 2014" campaign is a project of Unhate Foundation, a marketing arm for United Colors of Benetton, a clothing company.
You might remember Benetton's attention-grabbing 2011 campaign, where they circulated photoshopped images of world leaders locking lips (Obama smooched Hugo Chávez and Hu Jintao, busy day).
"Juanito" was created to promote the fictional media outlet Unhate News, which Benetton calls "our platform to take particular topics of discrimination, intolerance and injustice, and give them a positive spin." The idea is for users to create news stories they'd like to see become a reality.
G/O Media may get a commission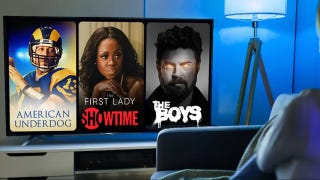 UNDER $1
99¢ Prime Video Channels
That said, the fake gubernatorial campaign sends a message that could rile supporters and opponents of immigration in the Southwest.
The faux candidate, Juanito, comes across as a caricature, if not a tone-deaf stereotype: his mustache is almost as wide as his cowboy hat and his campaign uses the tri-colors of the Mexican flag. A mock political spot assures you, "He works hard. Really hard."
Oh yeah, and he's referred to as an "illegal immigrant" in campaign ads, a term that immigrant-rights activists (and this network) would not use.
"The term 'illegal'… is just used to make a point in a provocative way," said Carlo Cavallone, the executive creative director at 72 and Sunny, an Amsterdam-based agency promoting the campaign. "But if you read the website, you'll realize that our point is that no human being should be called illegal."
Benetton is known for pushing boundaries with its advertisements. The kissing campaign three years ago also featured Pope Benedict necking with Sheik Ahmed el-Tayeb, Egypt's top Muslim cleric. The company pulled that ad after the Vatican complained.
People who don't like the tone of Benetton's newest promos can also submit their own projects. Ten submissions will be awarded funding from the Unhate Foundation to develop imaginary news spots.
At the end of the day, this is an ad for a clothing company. But the message behind the immigration project isn't entirely equivocal, either. Dig into Juanito's campaign website and you'll get a glimpse of the intended takeaway from the advertisement, written in Spanish and English.
"A vote for Juanito is a vote for ending the discrimination of immigrants," the site reads. "It's a vote for equality and acceptance, a vote to acknowledging the rights of others, no matter where they're from. It's a vote saying that no human should ever be considered 'illegal'."
Ted Hesson was formerly the immigration editor at Fusion, covering the issue from Washington, D.C. He also writes about drug laws and (occasionally) baseball. On the side: guitars, urban biking, and fiction.