[fusion-script src="http://mp1o.s3.amazonaws.com/fusion/fusion-embed.js"][/fusion-script]
Two years ago journalists stumbled upon an odd beachwear trend in Qingdao, China. Women there wore nylon ski masks covering their faces to guard against sun exposure. What those journos couldn't know was that a San Francisco entrepreneur had already trademarked the "Facekini," as the media took to calling it, and was poised to make fashion, er, history.
Peng&Chen 'Face-kini' photography
The original Facekini was born to serve a purpose. For Chinese women, tan lines mean lower socioeconomic status and wearing a hat doesn't cut it anymore, so the mask gives these women at least one way to (wait for it) save face.
G/O Media may get a commission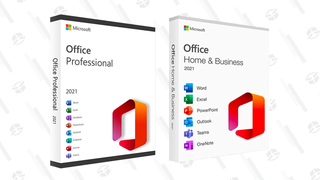 89% off
Microsoft Office Professional 2021 Lifetime License
Thanks to Greg delNero, the forward-thinker who owns the Facekini trademark in the U.S., anyone can adorn their mug with the accessory that offers a chic new way to guard your face while simultaneously terrifying young children. And young adults. And adults in general, and the elderly as well.
And 2014 has become the summer of Facekini. The frontispiece accent appeared in the spotlight when it was featured in its first ever high end fashion spread called "Masking In The Sun" where the $16 facemask was paired with Alexander Wang one-pieces and Balenciaga silver waist belts. While most people would think that the Facekini is not the prettiest thing to wear on your face, former-Vogue Paris editor-in-chief Carine Roitfeld's online magazine CR Fashion Book disagrees.
Image by Alexandra Utzmann for CR Fashion Book's 'Masking In The Sun'
Mélanie Huynh, the editor on the photo shoot, said that the Facekinis got a great response when they were first pitched to Roitfeld and photographer Alexandra Utzmann. "Carine loves those unexpected fashion stories," Huynh says. "Fashion insiders like the idea of trends coming from 'the street' and find that Facekinis have something really strong."
Image by Alexandra Utzmann for CR Fashion Book's 'Masking In The Sun'
"Maybe if big brands sell them it might become a trend for the rest of the world, but it should take a while," says Huynh. "However, it could be on the runway soon." So if Facekinis start to go the route of Birkenstocks we can be looking at $200 Givenchy Facekinis in platinum colors by next month's New York Fashion Week.
DelNero also thinks high end Facekinis are a possibility. "I like to look up the addresses of where I'm shipping the Facekinis and ever since the CR Fashion Book spread I've had a lot of orders coming from Beverly Hills and London. Just today I sent a Facekini to the Louis Vuitton headquarters," delNero laughs.
But where did Facekinis come from and who was actually wearing them before CR Fashion Book foisted them on eager trend-seekers?
DelNero says he dreamed up the company nearly three years ago, before Facekinis were well known. "I saw them on a Chinese news report and I was like 'Whoa! I think I can sell these'," he says. "My girlfriend is Chinese so I asked her mom if they could send me a box of them from China to try to sell over here and her cousin sent me a box of 200. I started selling them as gag gifts, honestly, because, you've seen them, they're extremely funny looking."
Facekini has sold nearly 2,000 masks since it launched, and while that may not sound like a huge number, it's nonetheless confounding to think there might be 2,000 people running around wearing Facekinis. What started as gag gifts similar to the Zentai suits quickly earned a reputation for protective headgear utilized by surfers and horseback riders. "The UPF, which is the UV rating of fabric, is equivalent to SPF 50," delNero says. So they come in handy for people who are constantly exposed to direct sun. "The Facekinis are made of lycra and spandex so basically they're just soft swimsuit material," he says, "but they're actually cool to wear." ("Cool" in the breathable-fabric sense; not the fashion sense.)
Although a Chinese woman claims to have invented the Facekini, delNero found a picture of a woman from the Netherlands in 1928 sporting a swimming mask that closely resembles today's Facekini.
DelNero says the best thing he did was trademark the name back in 2012. These last weeks since the editorial spread he's had to audit eBay and Etsy for infringements on the registered trademarked Facekini. He was especially hurt when CR Fashion Book didn't even include the Facekini name in its spread. "I was hoping they'd put our name in it because now I see it's spawned a lot of press," he says. "But three days after the editorial came out we had 700 hits on our website so I guess people figured out what they were on their own."
So what's next for the facial accessory no one asked for?
The U.S. distributor has been in contact with the melanoma society and other skin cancer foundations to get their fabric scientifically rated. "They can put you as a recommended company or sponsor," says delNero. "I would like to do that eventually, but right now it's too expensive. It's over $10,000 in yearly fees to be approved and there are already other masks and products sponsored by the foundations, but nothing as extreme as the Facekini." For now, delNero is modifying the design of the Facekini to fit all faces. "It's become my day job now," he says.
Besides trying to get the fabric sponsored, delNero is also working on a college line of Facekinis for students at game days. "Students would wear Facekinis to games for a couple reasons: it's bright out, they want to look silly, and it's a good alternative to painting your face."
Joe Robbins/Getty Images
The verdict is still out on where you'll find the next Facekini boom — either the cover of Vogue or the crowds on campus. Either way, fashionistas would be wise to scoop up theirs while they're still just $16.
Romina Puga is a pop culture reporter and producer for Fusion. You can find her on "Fusion Now," Fusion's daily TV updates, going over new movies, music, apps, and why D'Angelo is still sexy.