KENTWOOD, LA — Fay Gehringer flips a light switch and behind a wall of plexiglass appears a small bedroom: a trundle bed with a ruffle skirt, a mountain of curly-haired dolls, a white clapboard desk, a teddy bear wearing an NSYNC T-shirt. I recognize the room from the photographs in Rolling Stone. This is Britney Spears' childhood bedroom, where she posed for the magazine's April 1999 cover story.
But Fay and I aren't standing in the house Britney grew up in. We're in the Kentwood Historical and Cultural Museum, about five miles down Route 51 from the pop star's childhood home.
"Why is this room lower?" I ask. We'd taken a step down, below the ground floor, to look at Britney's bedroom. "Oh," she tells me with a sigh, "This used to be the carport. See, this whole place used to be an old funeral home."
Fay knows Britney Spears, and loves her, like everyone in this small town does. But she loves Kentwood more. She's more animated telling me about the house's history as a funeral home than she was about any of Britney's awards stacked in the display case.
She takes me back through the rooms of the museum, where she hosts several visitors a week. Here are Britney's platinum records, her Kids' Choice Awards, the wings from her Femme Fatale tour. And then we are in the part of the museum not about Britney at all, but about where she's from.
G/O Media may get a commission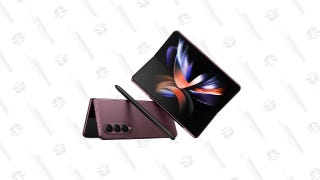 Save Up to $300
Galaxy Z Fold4
The story of Britney Spears' rise to fame—no matter who tells it—always begins with how young she was when her talent was discovered, and how much she and her family had to sacrifice. And that narrative starts with this little house planted right next to the train tracks.
"Pop stars, especially white pop stars, are one of those places where we put our hopes and dreams," Dr. Norma Coates, an associate professor at Western University in Canada who focuses on popular music, told me. "The American Dream is built on the idea that anyone can transcend this little town if they work hard, and just believe. Of course, that isn't always true."
At the height of her public breakdown in 2007, Britney Spears released "Piece of Me." On it, she sings, "I'm Miss American Dream, since I was 17." In the American Dream narrative, where you come from is almost as important as where you end up. What kind of gumption does a little town have to have to grow one of the 2000s' biggest pop stars? How nurturing and supportive would the people of that town have to be? Did it take a keen eye to spot the talent in young Britney Spears, or was it just that obvious she'd become famous?
Miss American Dream has to get her start somewhere, after all. That's what led me to Kentwood, Louisiana—to get to know the 123-year-old sleepy town that launched Britney Spears.
Anywhere "worth going" in Kentwood is off Exit 61, which throws you right onto the town's main street. There you'll drive past the Sonic where teens linger holding skateboards, the high school closed for summer, a single grocery store, and the city hall.
Almost every time you get directions in Kentwood, you're told to look for a church. To find Britney Spears' childhood home, you look for Green Law Church. It's on the right of a two-lane highway, with the original Spears home behind it. The three-bedroom, two-and-a-half-bath red-brick ranch house is modest but nice. The front door has a stained-glass window set inside it, but it's not fancy. The mailbox tips a little too far to the right. The basketball hoop at the end of the driveway has faded yellow.
This is the house where Britney Spears grew up. Or at least, it's the house where she spent the formative years of her childhood, before everything became flashing lights and choreography. It's the house where she jumped rope and played hopscotch and once had to pick up trash along the side of the road because she missed curfew.
Britney went to elementary and junior high in this town, and just about everyone seems to remember some little story about the pop star in her youth. "If you ask anyone who knew her while she was growing up in Kentwood, Louisiana, they'll tell you: even as an itty-bitty thing she was dancing to the music," Lynne Spears wrote in her 2000 co-authored book with Britney, Heart to Heart. "She'd put on these shows for our family and friends and take her bows like a professional."
It's a perfect American Dream narrative: a young girl from a small Louisiana town, filled with promise, who through hard work climbs her way into millions of dollars and the hearts of millions of Americans.
But while Britney was talented—and we all know now that she ended up a pop sensation—from 1990 until around 1998, things weren't exactly easy for the Spears family. For years, Britney's parents couldn't pay their bills, much less give their children an allowance.
"I remember we had this little family meeting," Lynne wrote in Heart to Heart, "and we decided that no matter what it took, we'd get Britney the lessons she needed. We all believed in her that much."
Almost any family in Kentwood would have probably had the same kind of money problems. According to the 2000 census data for the 2,205 Kentwood residents, the median household income was $17,924 a year. For a family of four, that's awfully close to the federal government's poverty line in 2000—a household income of $17,050. Jamie and Lynne both worked, but they still struggled to survive.
Through her family's sacrifices, Britney auditioned for The Mickey Mouse Club in Atlanta at age 8. She was rejected because she was too young and inexperienced. But the casting director gave her the name of an agent in New York City. "I remember asking Mama if they had any cows there," Britney writes in Heart to Heart.
The neighbors told Lynne she was crazy to take her daughter away from Kentwood. "We just couldn't believe that Lynne was gonna take that girl all the way up to New York City," Fay Gehringer told me. "It seemed too ridiculous." But Lynne's plan paid off. Britney studied for three summers in New York City at the Professional Children's School, before competing on Star Search. Eventually, Britney was selected as a member of The Mickey Mouse Club, the show that gave us Justin Timberlake, Keri Russell, Christina Aguilera, and Ryan Gosling.
The first time I drive by Britney's childhood home, on a rainy Friday morning, I'm the only person in sight. But when I return again to take a few pictures on Saturday afternoon, after the weather cleared up, I find myself watched by two men. They are standing due north of the Spears' home, shoveling a giant pile of home renovation garbage—cardboard boxes, hunks of insulation, a broken bookshelf, two-by-fours—into wheelbarrows.
"Hi," one of them calls out. "You a fan?" I tell him that I am, kind of: I'm a reporter here to learn about the place where Britney came from.
"Well," he laughs, "You're lookin at it."
His name is Matt and he's lived in Kentwood his whole life. He's younger than Britney and her sister Jamie Lynn, so he didn't really know the family, but he knows about their fans. "People drive by I'd say every week or so." Matt calls out to his friend for confirmation, who nods, still shoveling.
The Spears don't live in the old house anymore, but patriarch Jamie comes by from time to time. At least, that's what Matt tells me. According to Tangipahoa Parish tax records, the Spears family still owns the property. "They're good people," he presses on me before I return to my car, as if he's anxious I might think otherwise.
There's a protective air around the Spears family in Kentwood, Louisiana. They are, after all, the biggest thing this town has ever produced. And it's not just protection—it's pride. The website for Kentwood still reads "Britney Spears' Hometown" at the very top of the page, and has a link out to Britney's website. And on the drive from Britney's house to the museum, I pass a "Welcome to Kentwood" sign: A pop star silhouette poses above the all-caps declaration that this town is the "HOME OF BRITNEY SPEARS."
Later, I'd learn that this is the only sign still hanging, but there were originally many more just like it. No matter what the town did or how they attached the signs, fans stole them. According to Fay, the town lost almost a dozen signs before they just gave up hanging them. For whatever reason, nobody ever got around to this one.
After I talk to Matt, word spreads that I'm in town. When I stop by the Sonic—where Britney and Justin Timberlake often enjoyed a bite to eat in the very early 2000s—later that day, the girl serving me asks if I'm "the writer." By the time I try a drive-through daiquiri that night, the teen at the window doesn't even ask. "You're the reporter from up north," he observes, even though the rental car I've pulled up in has Louisiana plates.
"We all love Britney," he tells me.
"Have you ever met her?" I ask.
"No," he says. "But I love her."
The Kentwood Historical and Cultural Museum looks like somebody's home. In fact, the yellow house is so nondescript that the first time I visit, I drive right past it. When the road dead ends, a kid on a bike has to tell me to turn around. It's in downtown Kentwood, but even downtown is still rural.
When I pulled up at the museum, it looked closed. There were no cars in the small parking lot or in the driveway, and all of the lights inside the building were off. The website said the museum was open from 9:30 a.m. to 3:30 p.m. Tuesday through Saturday, but the website had not been updated since 2009. When I rang the small doorbell jerry-rigged to the side of the door, Fay appeared, wearing a red polo shirt with her name embroidered on it and mascara so thick it looked exhausting to lift.
"Can I help you?" she asked, standing with the door only slightly ajar, like I might be there to sell her something, which she later told me has happened before. When I explained I had come to write a story about Britney and that I wanted to see the museum, she waved her hand dismissively. "Oh, so you just want to see the Britney section, a fan," she sighed. But when I tell her I want to see it all, the whole museum, she perked up.
The museum got its start in 1993 when Fay and "some other old birds" started collecting historical memorabilia and artifacts in honor of the town's centennial anniversary. Fay is such an expert in Kentwood history—and its Britney chapter in particular—that when I called the town's mayor to ask a few questions, she immediately referred me to Fay, saying, "You don't want to talk to me. You want Fay. Fay knows absolutely everything about Miss Britney Spears."
Fay starts our tour in the front room, showing me a quilt that was made for the centennial to teach visitors about Kentwood and its industries.
There are bricks in one square, because Kentwood makes bricks, and that provides a few jobs. There's still a functioning brickyard a few more miles down Route 51. There are logs in another square, because Kentwood ships out timber. But the quilt square we pause the longest on is the one with a cow. Kentwood's main output for almost a century was dairy.
"What do people do now?" I ask.
"Not much," Fay laughs. "There's not a lot of industry left in Kentwood. What's happening is people are moving out. Right now, it's not as good as it used to be."
Another square on the quilt holds a water jug. The only major business left in Kentwood today is a bottled water company, Kentwood Springs, which ships local water off to Atlanta to be bottled and sold. Faye hands me a bottle of it to drink while we mosey around.
Fay appears to be in her early 70s, but she won't tell me her age. She used to be a florist, and before she retired a few years ago, she would make the arrangements for her church on Sunday mornings.
In the front room, Fay stops. She gestures toward the door I came in almost three hours earlier. "So this was the parlor room [of the funeral home], and if you had two bodies in here you could put one of them in there." She makes a joke about her friends being afraid of ghosts before she says almost offhand, "My dad, when he died, was laying right up there in a casket. My grandparents, too."
Fay says the house hasn't been a funeral home in a "real long time." For 20 years it stayed empty, desolate until the family who had owned it willed it over to the city. And for 23 years since then, it has been the Kentwood Historical and Cultural Museum—one room for military personnel, one room for Kentwood history, one room for pre-war nostalgia, and one room for Britney.
We walk around the museum for almost two hours before we get to the section filled with Britney's things. As we turn the corner, Fay announces in a sing-songy voice, "Once upon a time we had a little girl growin' up in Kentwood whose name was Britney Spears, and she is a famous lady now." The first of the three Britney rooms is bright pink. After the whites and beiges of the historical sections of the museum, it's almost enough to give you a headache. The Britney section only takes up about a fourth of the museum, but it's the most cluttered.
On one wall is a collection of photographs and memorabilia—her cases of CDs sit in a display case, novelty calendars with a different picture of Britney for every month hang on a wall. In the corner, a pair of giant white wings from her Femme Fatale tour almost touch the ceiling. The museum is free and accepts donations, but if you want to take a photo with the wings, it'll cost you $3. Fay says Jamie made her charge since they are "so nice."
Fay is friends with Jamie and Lynne, Britney's parents. They're the ones who brought her the wings, because they wanted the museum to have something nice and newer. "All of Britney's stuff has to come through her family and through her organization," Faye tells me. "I am always callin' Lynne and trying to get her to bring me some more stuff. I'm hounding 'em like, 'Wattchu got in your house?' But they can only give me so much."
Most of the paraphernalia has been donated by fans. All the posters, and books, and magazine clippings, and framed photos were mailed in by Britney devotees who decided they didn't want to keep their collections any longer. A fan even contributed a strange, homemade miniature replica stage complete with 600 colored lights and thousands of parts. "Some people have too much time on their hands," Fay tells me. But she likes for the museum to be full, and she's glad that people send things.
The Spears family moved houses right after Britney released her first album, …Baby One More Time. With the proceeds from that double platinum record, Britney bought her mother a custom-built home in 1999.
There are three Confederate flags on the drive from downtown Kentwood to the new Spears estate. One on a tree, one on a novelty mailbox, and one in front of a BBQ place.
Go six miles east and turn left before you hit the water tank that reads "Dairy Capital of the World." Head three-quarters of a mile down a sleepy blacktop road, and before you hit Lewiston Baptist Church, you'll see the house. It's set three times as far back from the street as Britney's childhood home, and it looks about three times bigger. The house is surrounded by thick trees and tall iron fencing marks the perimeter of the property. On the front gate, an embossed copper plate set in the metal gating reads "Serenity," a name for the house, and quite possibly a blessing the Spears family hoped it would provide. Fay says they still do holidays out at what she calls "Lynne's house." Britney's parents divorced in 2002, and Lynne lived there alone until they reconciled in 2010. Britney's kids, "the boys" as Fay calls them, love it out there.
"Fans would scale those fences," Fay tells me. "They finally bought two beautiful German Shepherds, and they would be out at night for protection. Beautiful dogs, but scary dogs. I wouldn't reach down to pet one."
This was in 2000 and 2001, when Britney Spears was probably the biggest star in America. Companies and fans would call Fay's flower shop and want to have $500 bouquets sent out to Serenity for Britney. But Fay didn't have $500 worth of flowers in her entire store. So she and Lynne set up a credit system. "I would bring the card, and tell her how much credit she had, and then she could come by every week and I'd give her a handful of flowers and we just backed it off of her credit."
In those early days, Fay says, there were paparazzi everywhere, and fans showed up in town for no apparent reason. There was no room in the museum devoted to Britney then—she was just a little girl they'd watched become a Mouseketeer with pride. Sure, Britney had become a famous star, but she was also still very much a Kentwood teenager to the people she'd grown up around.
"The first time she did something a little bit too risky, it embarrassed the heck out of her mother," Fay said, "Because her mother is the one who had to get out and about with all of us. She told us she just kept saying, 'Where is your head, Britney?' I said, 'Lynne, your kids are gonna embarrass you, it don't make no difference.That's not where she came from, and we all know that.'"
There's nothing embarrassing about Britney Spears in the Kentwood Museum. The only even slightly risqué photo of Britney is the one taken for Rolling Stone in 1999, of her in her childhood bedroom, and it hangs next to the full reconstruction of the room. In the photo, Britney leans seductively against her childhood vanity. She's wearing platform white heels, white tight shorts, a lace white bra, and a soft gray cardigan. The photo is shot from below and Britney's charcoaled eyes beam down seductively from among her doll collection.
The Britney section of the museum exists in a kind of holy space—when Britney was famous and beloved, and never a figure of ridicule. There is no trace of her public breakdown in any of these rooms. There is no discussion of her recovery, or her divorces, or her failures. In fact, the only evidence of a man Britney Spears dated that exists in the museum is a lone photo of Justin Timberlake playing the piano. It's a surreal time warp, and an intentional one: this isn't a museum so much as it is a shrine.
"We had people that came in here and wanted to interview [us]," Fay told me when I asked her about what happened after 2007. "They didn't want the good stuff. They didn't want [us] being happy about Britney. They wanted the trash. They felt like any kind of trash was the real stuff. But the real stuff is that we're all real proud of her."
In 2007, there was enough "trash" about Britney Spears floating around to write an entire book. She was married to Kevin Federline. She had been spotted driving with her baby unbuckled on her lap. In a moment of insanity or perhaps desperation, she famously shaved her entire head in a Los Angeles salon. She wasn't the sweet little shy girl next door, who maybe wore a very short skirt but otherwise made her hometown look good. She was a mess.
Standing in the reproduction of Britney's childhood bedroom, I tried to ask Fay more about the bad years. How did it feel? Could she watch the news during that time? What did the town feel like? Were there a lot of reporters? But she wouldn't answer any of them.
"Past is past," she tells me. "No use dwellin' on the bad times"
And that seems to be the whole heart of the Kentwood Museum—the good parts of the past, when the town still had industry and dairy farms and the biggest superstar in the world.
Five miles before the exit for Kentwood on interstate 55, there's a sign nailed to a tree. It's tucked a little way off the highway, but even at 65 mph, its big, black-lettered message is clear: "Jesus is the answer. Read your bible."
The people of Kentwood, Louisiana, are certainly religious. And that's no surprise, really. Kentwood might be only 90 minutes from New Orleans, but it is smack dab in the middle of the Bible Belt. Though the town numbers only approximately 2,200 residents, I counted 14 churches near downtown in the three days I spent there.
In the small towns of the south, a church functions like an even smaller town. The congregation becomes a kind of extended family—aunts, uncles, and cousins who only share the blood of Christ. Britney grew up in Kentwood, Louisiana, but she was brought up in the wooden pews of First Baptist Church.
It was here that, according to her mother in Heart to Heart, Britney performed her solo debut at the age of four, singing "What Child is This?" in the preschool Christmas program. "The whole town couldn't stop talking about how great she was," Lynne wrote. "She just blew everyone away."
On Sunday morning, I headed up the steps of First Baptist. As people filter in, they hug one another. Some wave to me. Several stop to ask me how I am. The older couple in front of me turns around to ask how I'm liking Kentwood. I tell them that everyone is very nice and they nod in appreciation. They tell me that they've lived in Kentwood together since they got married almost 27 years ago. They say they were here for that Christmas play when Britney sang her first solo.
"She was so tiny then," the woman tells me. "Adorable. But she had this big voice. Even then, everyone would turn their head when Britney walked into the room."
"To be honest, though," she tells me, "I worry about her. I pray for her and her family every day." But after she says that, she seems to regret it, and won't tell me her name.
Pastor Joey Miller speaks that morning on spiritual growth. This morning, the members of First Baptist Kentwood are focused on their own growth, their own pursuit of God. And they are as solid as a fortress. No one speaks to me about Britney. No one wants to say anything, for fear of saying the wrong thing.
This is a stance the people of Kentwood have held since Britney's space in the spotlight stopped being something the members of the town could talk about with glee. "We've all talked it over and decided we won't say anything," Jansen Fitzgerald, a friend of Britney's, told People magazine in 2004 after Britney eloped in Vegas.
Kentwood is still a tight-lipped town about anything that happened between 2004 and 2010. So many of the locals have seen her in concert since then, or caught glimpses of her on the way to Serenity, but she's more and more private. "The last place I saw her was Nyla's," a woman named Claire tells me laughing, "shoving her face full of fries."
Someone writes me directions to Nyla's on the inside of my church program. It's a small restaurant across the Mississippi state line, about two miles north of Britney's childhood home. Inside, at the red-checkered plastic tablecloth covered tables, the menus brag to be both "Britney Spears' Favorite Family Restaurant" and "Where Folks Feel Right at Home."
I order "whatever Britney would have," which turns out to be a cheeseburger and battered cajun fries. The cheeseburger was laden with cheddar and mayo and grease. Ultimately, though, it was just a burger. A little overcooked and a little underseasoned—exactly like the kind of burgers I loved as a kid in my own hometown.
And that's the thing about Kentwood, Louisiana. It might have a hometown hero in Britney Spears, but it's not special. Thousands of rural towns across America have a notable burger shack, a dozen churches, and no industry to support the residents. Thousands of towns have families that choose not to pay their heating bills so they can give their children opportunities that they never had. And all of them are deeply loved by their residents for being safe, and stable, and filled with people who would keep their mouths shut if one of their own was under public scrutiny.
"Kentwood has its problems," Fay told me very early on in my tour. "People are leaving. You have to leave if you want to do something great. Look at Britney. She left." But Fay also told me how great it was to live in Kentwood, how much she loves her friends, her church, and her history.
There's a generic nature to Kentwood that makes it the perfect place to grow up and the perfect place to be from. It's the perfect place for a narrative of fame to start. The people are supportive and kind. They cared about Britney Spears not because she was talented and had star power, but because she was Jamie and Lynne's daughter, a member of their church, one of theirs. Like so many small American towns, they were supportive because they simply didn't know any other way.
Britney Spears became America's Sweetheart, our pop princess, our Girl Next Door because she could sing, dance, and own a stage. But she was beloved because so many people could recognize her, with her Southern accent and demure shyness. We all knew a girl with a dream and a talent who it seemed, just maybe, could have been her.
What made Britney Spears a sensation was that it felt like her American Dream could have happened to any of our friends, our siblings, or even to us. And Britney Spears owes that feeling, the beginning of her story, to Kentwood, the little town that raised her.
Kelsey McKinney is a culture staff writer for Fusion.