Since returning to the National Football League for the 1999 season, the Cleveland Browns have had nine top-ten draft picks (out of 15 total possible drafts), meaning they've been perennially bad since their revival. You'd think having early dibs on top NFL prospects would improve their teams, but you'd be wrong. In fact, since returning, the Browns have only made the playoffs once. They, of course, lost.
It's safe to say that the Cleveland Browns are not only not good, they're cursed—and so is anyone who has had the misfortune of having been drafted by them. To prove this point, here are five players whose careers were ruined as soon as they were called up to the podium.
Tim Couch
We couldn't find a good highlight reel of Couch as a member of the Browns, so here's a picture from Getty Images.
It's fitting that a list about failed Cleveland Browns draftees begins with former quarterback Tim Couch, the first player drafted by the team after resuming operations. In his senior year at Kentucky (1998), Couch was a First-team All-American, First-team All-SEC, SEC Player of the Year, and a Heisman Trophy Finalist.
G/O Media may get a commission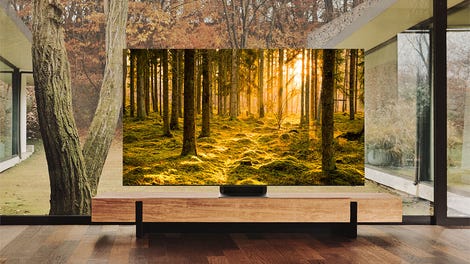 Up to 40% off
Samsung Smart TVs
For the Browns? Well, he did lead the team to their only playoff appearance (a 2002 Wild Card berth that resulted in a loss to the Pittsburgh Steelers). Beyond that, however, he lost more games than he won (22 vs 37), and threw more interceptions than touchdowns (67 vs. 64). In 2004, the Browns finally put Couch out of his misery by releasing him. He tried to come back to pro football on multiple occasions to no avail. Apparently, the Browns stench is hard to shake.
Kellen Winslow, Jr.
The son of NFL Hall of Famer Kellen Winslow, Winslow, Jr. made a name for himself at the University of Miami. In 2003—-his junior year—-Winslow, Jr. received the John Mackey Award, was named a First-team All-American, and had this insane tackle against Tennessee, which resulted in the utterance of the term "I'm a soldier!":
Unfortunately for the self-proclaimed soldier, his stint—-or tour, if you will—-with the Cleveland Browns deserved a medal of dishonor. In his five years at Cleveland, Winslow, Jr. was plagued by a broken fibula his rookie season (he only played in two games), a torn ACL (and subsequent staph infection) after a motorcycle crash his sophomore year, and yet another staph infection in 2008. To his credit, he did make the Pro Bowl in 2007, but that's only because then-San Diego Chargers tight end Antonio Gates chose not to play.
After leaving the Browns, Winslow, Jr. found some success with the Buccaneers, but just think of what could have happened if he hadn't been drafted by the Browns in the first place.
Braylon Edwards
Braylon Edwards was drafted by the Browns as the third overall pick in the 2005 draft. Edwards came to the Browns from the University of Michigan, where he was the only Big Ten player in history to gain 1,000 receiving yards in three consecutive years. Also on the school's track team, Edwards was the third-fastest 200-meter runner in the school's history.
Edwards' career with the Browns naturally began with a staph infection, which caused him to miss a few weeks of competition. In his first season, Edwards had three whole touchdowns before suffering a season-ending knee injury. Between 2006 and 2008, Edwards actually played pretty well. Really, he did. In 2006, he totaled 61 receptions for 884 yards and six touchdowns on the season. In 2007, he became the first Browns receiver to make the Pro Bowl since 1989, and he had 16 touchdowns on the season. In 2008, Edwards made a bet with Michael Phelps that he would make 17 touchdowns. He made three. And then he was traded to the Jets, and then the 49ers, and then the Seahawks, and then the Jets again. He is currently a free agent.
Brady Quinn
Brady Quinn was one of Notre Dame's best quarterbacks, setting 36 records during his time there. He placed third in the Heisman Trophy balloting in 2007 and was even featured on a regional cover of Sports Illustrated's 2006 college football preview. But, well, you know how this story goes by now.
He did fine, just fine, playing for the Browns for the first two seasons. Quinn played a few games in the 2007 and 2008 seasons, in which he didn't win but also didn't completely embarrass himself. Then in 2009, the Browns hired former New York Jets coach Eric Mangini. At first, Quinn was the Browns' starting QB. Then he was benched. Then he wasn't, then he was again, then he didn't play well, and then he injured his foot and was traded to the Broncos. Quinn hasn't done much since (he last played in 2012), but on a brighter note, he did have the best game of his career as an NFL starter after the murder-suicide committed by then-Kansas City Chiefs teammate Jovan Belcher.
Trent Richardson
Trent Richardson was a dominant running back at the University of Alabama. He was part of two National Championship winning teams (2009 and 2011), was a Heisman Trophy finalist (2011), was the recipient of the 2011 Doak Walker Award (given to college football's best running back), and was an unanimous All-American (2011). With accolades like those under his belt, it'd make sense for him to be drafted early.
And drafted early he was. The Cleveland Browns took him with the third overall pick in the 2012 draft. The team hoped Richardson would have an immediate impact on the field. Needless to say, he didn't. Despite starting 15 games, Richardson fell short of the 1,000-rushing yards mark. He also averaged a pedestrian 3.6 yards per carry.
The Richardson Experiment did not last long. He was traded to the Indianapolis Colts after two games into his second season. Richardson's woes did not improve at Indianapolis, and he was demoted to backup running back.
Johnny Manziel?
It's unclear who the Cleveland Browns will draft tonight with the fourth overall pick. The team desperately needs a quarterback after recently cutting former first-round pick Brandon Weeden, but according to sources, the team won't be drafting Johnny Football. It's too bad, because Manziel fits the mold of a Cleveland Brown top draft pick: He's polarizing (people either love him or hate him) and he excelled in college (first freshman to ever win the Heisman Trophy).
Plus, wouldn't it be funny if Drake's best friend was drafted to play for one of the country's saddest cities? (Cleveland, no offense, I love your Rock and Roll Hall of Fame, but you guys make Detroit look good.)
Fidel Martinez is an editor at Fusion.net. He's also a Texas native and a lifelong El Tri fan.