Leave it to Rihanna, the fashion world's Nostradamus incarnate, to herald the advent of a new age in denim. Plucking a vintage Sean John jean jacket right out of Yeezy's own closet to sport in their pared-down "FourFiveSeconds" video, the style oracle is exacting a serious throwback moment from Diddy's bling-era fashion line and declaring it a trend that never ceases to amaze. "Denim never goes out of style: It's classic, it's iconic—just like the fucking Beatles," the pop singer says as she hugs the weathered denim shirt closer to her chest in BTS footage from the video shoot.
All this old-school denim has got us feeling super nostalgic about some of the wrong-but-oh-so-right denim choices we made in the past. Remember those raver-girl JNCO jeans from your glowstick days? Or the all-American Tommy Girl pair that had you seriously channeling Aaliyah? No? Well, we put together a list of our favorite denim moments from yesteryear.
(If you don't believe the late '90s and early aughts are back, check out Rihanna's recent grunge-era denim fashion spread in i-D magazine and her Nirvana "Smells Like Teen Spirit" ensemble just the other night).
1. Delia*s
G/O Media may get a commission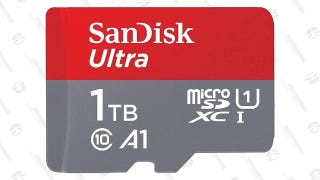 Save $75
SanDisk Ultra 1TB MicroSDXC Card
If you weren't channeling My So Called Life's Angela Chase in these Delia*s baggy jeans and a knit cardigan, then you are kidding yourself.
You know you wore these with: Any array of baby tees, a choker, and a pair of stacked platform jellies.
2. JNCO
You know you wore these with: a baggy hoodie, shelltop Adidas, bucket hat, and 12" long key fob… On your way to the drum-n-bass concert.
3. Baby Phat
Where did Kimora's reality TV show go??? Where am I supposed to learn about fabulosity without her guiding principles? We all feel a little bit lost without Simmons and this brand.
You know you wore these with: Timberland high-heeled booties, plenty of arm bling, Dijmon Honsu.
4. House of Dereon
Before your legs were moving side to side (smack it in the air), you were shaking your derrier in your Dereon.
You know you wore these with: Pointed-toe pumps, asymmetrical blouses, a Kangol cap, Jigga-man.
5. Sean John
Now who's hot, who's not? Tell me who rock, sell out in the stores.
You know you wore these with: Timbs, a puffy jacket, your close-friend-and-confidant Mase, and tons of arm candy.
6. FUBU
For Us, By Us? Huh…apparently everyone was a fan of FUBU back in the day — even the purveyors of boy-band "hip-pop", N*Sync.
You know wore these with: Oversized polos, a Starter jacket, and a pair of Lugz (the poor-man's Timb boots).
7. Cross Colours
Check that tag line: "For people who are doing life on this planet." I'd say rap mogul/billionaire Andre Romelle "Dr Dre" Young, one-time Cross Colours spokesmodel, is for sure doing life on this planet right about now. 
You know you wore these with: An oversized multi-color windbreaker, your pet Doberman, and a crisp pair of Js.
8. Tommy Girl
I stanned for Tommy Girl back in it's heyday, due solely to Aaliyah's affiliation with the brand. I thought I was her for a greater part of my youth. We miss you (and these jeans), baby girl!
You know you wore these with: A cropped ribbed tank, a heavy bang over one eye, Oakley sunglasses, and cross trainers.
Marjon Carlos is a style and culture writer for Fusion who boasts a strong turtleneck game and opinions on the subjects of fashion, gender, race, pop culture, and men's footwear.