Welcome to WHAT NOW, a morning round-up of the news/fresh horrors that await you today.

In its desperation to start killing people again, the state of Florida used a lethal injection drug never before used in the United States on Thursday evening to execute its first inmate in 18 months.
Mark Asay, 53, who was convicted of two racially motivated murders in Jacksonville in 1987, died without incident at 6:22 p.m., CNN reported. It's also believed to be the first time in the modern era that Florida has executed a white convict for killing a black person.
The state used the drug the drug etomidate as a substitute for midazolam, one of the three drugs used in lethal injection executions that has become difficult for states to get because drug companies don't want the sedative used for executions.
Asay's death was the first execution in the state since the Supreme Court ruled in 2016 that Florida's sentencing process was unconstitutional, giving too much power to individual judges and not enough to juries. Since then, the state passed a law requiring a unanimous jury recommendation for a death sentence, so Gov. Rick Scott gave the green light to start executions again.
G/O Media may get a commission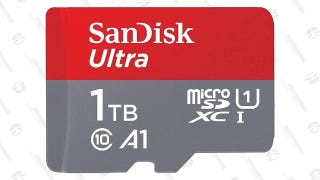 Save $70
SanDisk Ultra 1TB MicroSDXC Card
WHAT ELSE?
The Republican National Committee is expected to pass a resolution condemning white supremacists at their summer convention today. But weirdly enough, not everyone likes it!
Interior Secretary Ryan Zinke wants to open up four natural monuments, Bear Ears in Utah among them, to mining and drilling.
Trump was awake and online this morning:
And Taylor Swift is dead, but also Santa Claus, but also a snake eating its own tail somehow???